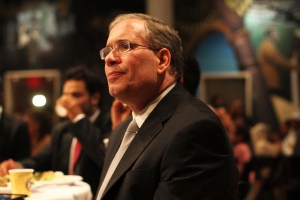 Scott Stringer can't claim to be completely surprised by the dramatic boost in his poll numbers over the past two weeks.
In fact, the Manhattan borough president and city comptroller candidate predicted as much–although not quite the 19-point jump displayed today–in a Wednesday interview at The New York Observer's Midtown office.
"Our numbers are much different than the Q poll," he said. "We're in a very tight race."
Mr. Stringer credited his campaign's slow and steady strategy for turning the tide. When he first saw his better-known rival, ex-Gov. Eliot Spitzer, destroying him in the public polls, Mr. Stringer said his friends and supporters were dismayed. Mr. Spitzer had flooded the airwaves with glowing ads and Mr. Stringer faced temptation to jump-start his own ad campaign, which would have burned through his finite resources.
"It's like telling someone, 'Don't worry, the reason he's up 19 points is because no one knows me yet,'" Mr. Stringer recalled. "People are like, 'That's the problem!'"
But instead of panicking, he dug in his heels.
"This was very disciplined," Mr. Stringer explained. "[Mr. Spitzer] put $2.5 million on television and his numbers started to go up, up, up, up. But it was very soft. We waited. And so last week, we put $1.2 million on TV–which is a relatively huge buy. This week it's $1.4 [million] … We're outspending him on TV right now."
Mr. Stringer also credited what he repeatedly referred to as his "validators"–the entire Democratic political, labor and media establishment that has rallied against Mr. Spitzer's candidacy. "We have great validators for the last ten days. We already have great editorial boards. We have great elected officials," he said. "I mean, there is not an organization that hasn't weighed in."
The greatest danger to his candidacy, Mr. Stringer acknowledged, were uninformed voters who turn out for the higher-profile mayoral election without a full understanding of the comptroller's race.
But in the end, Mr. Stringer expressed absolute confidence in the outcome after voters head to the polls on September 10.
"I really believe this to my core," he said. "This will be a strong victory. I know that everyone will call this an upset. I don't feel that way."