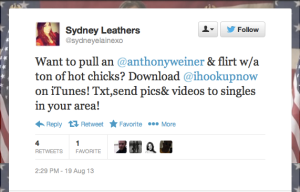 America's kookiest sexter, Sydney Leathers, is using her Twitter account to push a hookup app by assuring people that it will enable them to "pull an Anthony Weiner," because she apparently believes that is something people want to do these days.
What exactly does pulling an Anthony Weiner entail? According to Ms. Leathers, the answer is "flirt[ing] w/a ton of hot chicks." This can be completed by downloading an app called iHookupNow, Ms. Leathers assures her 6,392 followers.
The app "connects you to others that are nearby and looking to hook up!" according to its website. "Wow! It's like Grindr for straight people!" an alleged actual person is quoted as saying.
Ms. Leathers has been hawking the app via Twitter for a while, we suspect not just out of the goodness of her heart. She's also been @ing Mr. Weiner quite often, and apparently using him as thinspo?
We're beginning to suspect Ms. Leathers is a cyborg created by the Weiner campaign to make it look like he's not the crazy one. She's doing a great job.
(h/t Business Insider)