Public Advocate Bill de Blasio, the surprising new front-runner in the topsy-turvy mayor's race, is now getting a taste of his own medicine.
After spending months slamming City Council Speaker Christine Quinn over her decision to overturn term limits to allow the current mayor to run for a third term, Mr. de Blasio is facing heat from his rivals for the fact that, as a councilman, he advocated the same change.
But a defiant Mr. de Blasio defended his record this afternoon, slamming both Ms. Quinn and former Comptroller Bill Thompson for their recent efforts to blast him on the issue.
"That takes chutzpah, a lot of chutzpah, for Christine Quinn, the person who gave Michael Bloomberg a backroom deal for a third term to criticize other people," fumed Mr. de Blasio when asked to respond to Ms. Quinn's charge that he'd flip-flopped on the issue. "She violated the will of the people, she made a backroom a deal, she gave the mayor a third term and it's been a third term where the mayor has been absolutely insensitive to so many of the needs of the people, and then she wants to throw stones?"
While he acknowledged that he had supported extending legislative term limits back in 2005, he said he changed his mind in 2008 when he watched mayor orchestrate what he described as a "sneak attack."
"That was about an idea and then in 2008 we had a reality. And the reality to me was fundamentally undemocratic. It was clear the mayor was going to bully and buy his way to a third term. That did not reflect anything that I had talked about previously," he said. "When I saw the way he was using his money and his power to overcome the will of the people, I fought back and I led the opposition against Mayor Bloomberg's proposals … I led the opposition against it. Case closed."
As for Mr. Thompson, Mr. de Blasio dismissed his criticism as "convenient" and argued that, while Mr. Thompson was on the right side of the issue in 2008, he actually followed the public advocate's lead. "He knows when it came to organizing the strategy and the opposition and making the coalition come together, he'll admit that I was the one calling him to play a role in the effort," Mr. de Blasio charged. "Someone had to lead the fight against Bloomberg, and I did it."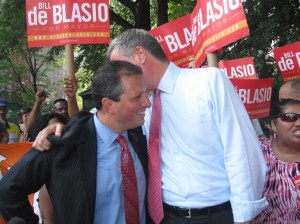 When asked about Mr. de Blasio's comments on a subsequent conference call, Mr. Thompson initially reacted with a laugh.
"I think if anybody remembers back then at that point, I was a strong opponent of the term limit change. I didn't have to be dragged out by anyone," Mr. Thompson told Politicker. "I was out there fighting."
Councilman Lew Fidler, supporting Mr. Thompson with a call, added that the de Blasio allegation was "ridiculous." "That's a laugh out loud funny," Mr. Fidler said. "Bill Thompson doesn't have to answer the question of, 'Why he was for it before he was against it.' By the time Bill de Blasio was advocating for it–I personally know, because I'm a witness–Bill Thompson was against it."
After the de Blasio's press conference–where Mr. de Blasio received an endorsement from City Councilman Brad Lander, one of the chief sponsors of two recent bills designed to rein in the controversial NYPD stop-and-frisk tactic–the Quinn camp fired off a press release further criticizing Mr. de Blasio for taking "talking out of both sides of your mouth to a whole new level."
Mr. de Blasio, Ms. Quinn and Mr. Thompson are locked in a three-way race for two slots in the expected Democratic primary runoff on October 1.
Additional reporting by Colin Campbell.