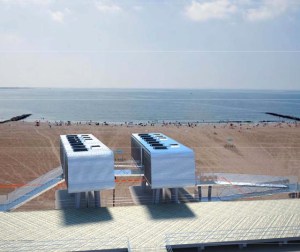 Rockaway Beach's stylish metal bathrooms made an impressive debut when they opened at the beginning of this beach season, seven months after Hurricane Sandy. The Observer remembers being impressed by the clean, sunlit interiors when we visited in June, as well as by the Parks Department's dedication to keeping them up—a worker stationed inside had been assigned the Sisyphean task of sweeping up sand.
But last weekend, looking to enjoy what we are constantly being reminded are the last days of summer, we were disappointed to find two sleek modular pods thirty blocks apart both closed off with metal chains. Beachgoers a Beach 69th Street were re-directed to a stand of nearby porta-potties, though the attached lifeguard station was open. Walking down the beach a few hours later, we discovered that while the brick-and-mortar bathroom by Beach 90th was open, its modular companion was not.
Turns out, the shuttered bathrooms were not just a fluke. Apparently, the 35 modular bathroom and lifeguard stations that cost $105 million to install are already ailing, according to DNAinfo. And these were the bathrooms that were touted as being storm-resistant and able to withstand the next hurricane, if and when it should strike the coast of Queens.
The bathrooms, as illustrated in DNAinfo's photos, show alarming signs of wear, including a handicap rail held together with duct tape, rust and cracks in the walls. It seems that the bathrooms can scarcely make it through this summer, let alone several seasons or another superstorm.
"I look at it now and I say, 'Is this going to last the winter?'" a lifeguard told DNAinfo. "There's leaks right next to the equipment closet. They left it half-done and now there's problems. The job was done like people didn't care. It's a monstrosity. It's a debacle."
The city's Department of Design and Construction, which commissioned the units, has admitted to using some temporary materials in order to open the modular pods in time for the summer season, but denies that the units are in a bad state. However, while our own experience last week may have been atypical, the fact that replacement porta-potties have been installed seems like a worrying sign indeed.