Jeffery Self and Cole Escola—a young comedy duo who parlayed YouTube success into two seasons of a cable TV sketch program—played two sold-out shows in New York this weekend, their first since splitting three years ago.
Separately, each has continued a trajectory of online mini-celebrity—especially Mr. Self, who moved to Los Angeles in 2010 and closely chronicles his personal life on social media.
Millennial, fearless and wildly funny, Jeffery and Cole exemplify a new generation of digitally native performers. But their audience is confronted with a challenge: when artists choose to broadcast their most private moments on social media, where is the boundary between life and performance? 
Directed by Christian Coulson, "Jeffery and Cole: Older and Wiser"—near as I can tell, they are both 26—was rapturously received at the 70-seat Duplex cabaret.
Very few in the entirely gay crowd would have been encountering them for the first time; in 2009, Logo TV turned their popular YouTube comedy series "VGL Boys" into the cable sketch show "Jeffery and Cole Casserole." But even allowing for a friendly room, the young comedians displayed an electric chemistry that threw off sparks in both set pieces and absurdist asides.
The set-up immediately blurred boundaries for anyone who had been following Mr. Self's high-volume social media: he shows up to visit Mr. Escola, after a long absence, on the heels of a divorce. Over the last two weeks, Mr. Self has been tweeting, blogging and Instagraming his painful, real-time reaction to getting dumped (over the phone) by his boyfriend of almost three years, who featured prominently in his constant stream of videos and other web content.
It is not too much of a spoiler to say that in the show, the ex-spouse is revealed in the last skit to be Bernadette Peters, a stock impersonation of Mr. Escola's. The joke is reed-thin, but Mr. Escola makes music with it. With stagy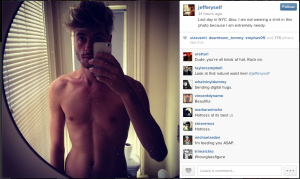 mannerisms and a permanent pout, it is an impression so off that the character should collapse under the weight of its own curly red wig. But Mr. Escola keeps her airborne—both in person and in videos on his own Youtube channel—demonstrating a sly comic talent that asserts itself skillfully alongside Mr. Self's more conspicuous stage presence.
In an hour and ten minutes of original material, very little missed the mark. The duo thrummed with the energy of a speeding train, sucking the audience—who were screeching like a cage full of macaws—along in its tailwind.
But always, there was the context and complication provided by Mr. Self's social media presence. That morning, his Twitter had spoken of getting home at 7am after the Saturday night show and sleeping all day, then there was a fifth Tumblr post in his break-up series about dealing with the pain of rejection. The day after the riotously successful Sunday show he tweeted, "At the end of the day, I guess I was always bound to be a broken hearted gay 26 year old stoned and muttering to himself on West 4th street."
For an audience relating to a young artist who uses personal material in his work, it's hard not to see Mr. Self's social media and performance as one continuum—tweet, Tumblr, live show, upload a YouTube video, major life event, Instagram. The reality show of his life is a contiguous channel alongside more formal artistic output like writing and performance and his two published books. It's like Picasso standing next to a portrait of Dora Maar, gossiping about their difficult affair to be sure you get the juice.
Among established 20-something stars, social media style ranges from mannered to messy.
"Girls" creator Lena Dunham may be the millennial celebrity most closely associated with her fictional alter-ego, but she's not giving anything away with tweets like, "The curse of having funky fresh shoes: everyone knows it's you in that bathroom stall."
Amanda Bynes, on the other hand, was being completely authentic when she mentally unraveled in front of her 3.1 million Twitter followers, but by that stage there was no professional image left to amalgamate.
The stars who come closest to the notion of dual-streaming their lives are Rihanna and Chris Brown, who tease their relationship out across Instagram and Twitter. Download their albums, see the concerts, buy the t-shirts—and in the meantime, check out their social for fresh daily content including spats, cuddle pics and occasional scandalous drug references.
For young talents like Mr. Self and Mr. Escola, in the creative vanguard of a compulsively confessional generation, this blending of personal social media with professional personae may simply seem obvious.
But what does it mean to us in the audience? Access to all this shared information is blurring our traditional relationship with the artist. Too much back-story can become baggage that we take with us into the show. Fascinating as the personal details may be, sometimes we just want Picasso to paint.
Monday afternoon, hours before heading back to the airport and his newly single life in Los Angeles, Mr. Self stood in front of a mirror and took a flattering, shirtless selfie for Instagram.
"Last day in NYC," he captioned the photo. "Also. I am not wearing a shirt in this photo because I am extremely needy."
Complimentary comments soon started piling up.
It reminded me of the 2007 one-man-show at New World Stages which gained Mr. Self some of his earliest attention. "My Life on the Craigslist," which he wrote and performed, portrayed a character (certainly fictional, although maybe not conjured out of thin air) finding sex through online hook-up ads.
It was a wickedly funny personal narrative driven by the enticing possibilities and glamorous dangers of the Internet. With that idea, Mr. Self hit on the theme underlying his generation of performers.