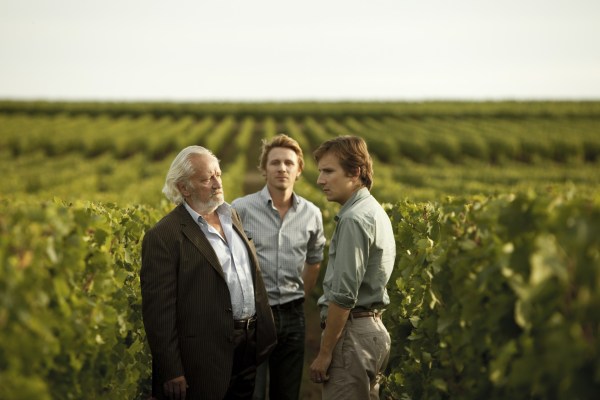 You Will Be My Son, which takes place on an Edenic vineyard in the French region of Saint-Émilion, is, on the surface at least, an oenophile's fantasy, a visual ode to the historic art of winemaking and all the traditions that go with it. For the characters in writer-director Gilles Legrand's third feature, wine is religion; wine is life. But the mood here, underscored by a dramatic classical soundtrack by the composer Armand Amar, is far from tranquil.
Aging Paul de Marseul (a contemptuous—and contemptible—Niels Arestrup, who played the loving grandfather in 2011's War Horse) is the vineyard's proud proprietor. He absorbed what he knows about wine from his father, who died when Paul was just a teenager. And in the movie's opening scenes, Paul seems like a charming if stern romantic. "A wine's aroma tells a story," he says to a female reporter who is writing an article about him. "Like a woman's perfume."
So when François (Patrick Chesnais), his estate manager, is diagnosed with a fatal case of pancreatic cancer weeks before the harvest, you imagine that Paul will bring into the fold his able if diffident son, Martin (Lorànt Deutsch), who lives on the property with his wife (a lovely Anne Marivin). Martin is eager to succeed his father's dying partner. But a smooth transition wouldn't make for a very interesting movie, and You Will Be My Son is, at base, a compelling family drama whose core conflict flows from Paul's unwillingness to let his son step up, despite Martin's degree in viniculture and a deeply ingrained knowledge of the family property.
Paul undermines Martin at every turn, going so far as to criticize his palate (a mighty insult, in this film). "It's a vineyard, not a charity," says Paul, who, when he thinks no one is looking, dutifully sprinkles the ashes of his dead father into the wine vats. For a man who seems to care so much about filial piety, Paul is remarkably unconcerned about his relationship with his own son. And it is a toxic one.
Why this is the case is not entirely clear. Perhaps Paul blames Martin for the death of his wife, who passed on when Martin was a child. Maybe he thinks his son is too weak to make it in the business. Or it might just be that Paul is a snake. Eventually François's son, Philippe (Nicolas Bridet), arrives from California, where he works as a vintner, to see his ailing father. Paul takes to the newcomer, who exudes the kind of confidence that Martin lacks, and it becomes apparent that Philippe is poised to step in as the new manager.
What ensues is a kind of parable that is as much an effective portrait of intergenerational struggle as it is a slick psychological thriller with Shakespearian shadings. Mr. Arestrup gives a full-bodied performance as the film's most intriguing character, who blurs the line between senile irascibility and out and out malice. Ultimately, what makes Paul so despicable—a tyrant, really—is the lack of compunction with which he seeks to replace his son. It seems that nothing can move this coldhearted man to tenderness—not even wine, which, when consumed, only serves to fortify his venom.
And there is a whole lot of wine consumed—by everyone, at almost every meal, in practically every scene. How delicious it looks—and how much passion—and poison—it sows.
YOU WILL BE MY SON
WRITTEN BY: Laure Gasparotto, Gilles Legrand and Delphine de Vigan
DIRECTED BY: Gilles Legrand
STARRING: Niels Arestrup, Lorànt Deutsch and Patrick Chesnais
RUNNING TIME: 102 mins.
RATING: 2.5/4