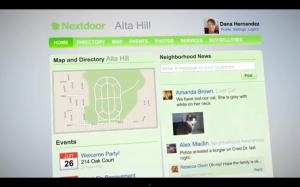 Nextdoor moves to Android town Remember Nextdoor, the super fun app that lets you connect with the people who live in your area, because getting to know your neighbors is something you definitely, totally want to do? Today, TechCrunch reported that the app is now available for Android users, meaning that Nextdoor is now available to 91 percent of all American smartphone users. Also meaning that hardly anyone will miss out on the next screaming 4 a.m. Amber Alert. 
Usablenet is on a roll A little over a year ago, we were asking why nobody's heard of Usablenet—a leading technology company that helps businesses create mobile experiences for their customers. Today, it looks like people are taking serious notice. This week, Usablenet announced it's grown 30 percent year over year since 2009, and that it earned a spot on the Inc. 500/5000 list for the fourth year in a row. Usablenet CMO Carin van Vuuren directly attributes the growth to the company's "technology, innovation and strategic client partnerships…Usablenet's strength continues to be our unmatched ability to create mobile experiences that achieve user and client goals."
Get Schooled with NYC Apps No matter how fervently you've probably been trying to deny it, the start of the school year is just around the corner. Why not celebrate the joyous occasion with NYC Apps' Educational Apps themed event, happening tonight in DUMBO? For just $5 per person, you get to eat lots of pizza and hear presentations from school-centric tech companies like Tinybop and Hopscotch. You're also invited to drink and network your face off.
Get decked out with Frank & Oak Shopping for clothes is a big pain in the butt, am I right, men? So many patterns! So many sizes! So many colors! What's an appearance-conscious hombre to do? Thankfully, online men's fashion hub Frank & Oak has just introduced a new "StyleScape" feature; using an "algorithm-driven personalization platform," it works kind of like your own personal robo-stylist. Because who else will be honest enough to admit you just don't have the toes to pull off those mandals?
A match made in 3D heaven Last week, leading 3D printing company Stratasys Ltd. and MakerBot announced the official completion of their merger, and promised that the new partnership will lead them "to offer [the] world's most popular desktop 3D printer." (Because it sucks being like, the fourth most popular desktop 3D printer, you know?) "Stratasys and MakerBot share a vision about the potential for 3D printing to transform design and manufacturing," said Stratasys CEO David Reis. "Our goal now is to maximize the benefits this merger creates for our shareholders, our customers and our employees." MakerBot CEO Bre Pettis has previously assured us that MakerBot rocks and won't ever change.
Talk tech over toast This Friday morning, why spend your breakfast hours watching One Direction on The Today Show (because that is happening) when you could be munching artisanal granola and farm fresh yogurt and bonding over bagels with friendly members of the New York tech scene? Head over to DUMBO Kitchen at 8:30am for the DUMBO Tech Breakfast, where you can grab some food, grab a seat, and talk tech, according to the event description. "There's no particular focus other than meeting some new people and having some interesting conversations," it promises.
Survey the day away Do you a) love making surveys, b) want to share them with friends and clients, and post them to social media, and c) want to do it all for free? (Yes, you did just experience a survey about a survey.) Anyway, if you're interested, check out SurveyAct, the free survey software startup that easily lets you create and share online polls, customizable to suit whatever your business may be. The company announced its re-launch last week, promising "added features, improved usability, and increased support."