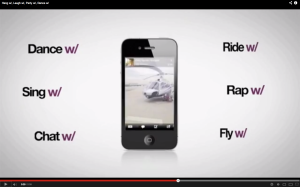 Hang out with Hang w/ Hang w/ (pronounced "Hang With") is kind of like Twitter, except all the posts are live videos, and users will be paid to broadcast. Sorry, what? Does this mean I can literally take selfie videos like it's my job? "In the future, you will be able to make money from Hang w/," says the app's official site, "Hang w/ generates revenue by charging advertisers for the right to advertise during our broadcasts. Because you are the one doing the broadcasting, we feel that you should share in those profits." The app just closed a $2 million Series A, already has more than 1.3 million broadcasts, and claims celebrity users Paula Abdul, Timbaland and Larry King. You should probably start hanging with this crowd.
Pounce on this Today in technology that kind of makes me believe in magic, here's Pounce: the iPhone app that lets you scan ordinary ol' print ads, and then immediately lets you buy the item you've just scanned—no need to worry about navigating individual retailers' complicated online check-out procedures. Next thing you know, that comfy-looking scarf from the Target catalog will be showing up at your doorstep. Pounce currently works in print media from Staples, Ace Hardware, Toys "R" Us, Babies "R" Us, and Target, so it's probably especially appealing to career-minded seven-year-olds who like to build shit in their spare time.
Fall in love with Lover.ly 18 months ago, the Internet saw the launch of Lover.ly, the search engine specifically geared towards brides- and grooms-to-be (Say Yes to the Dress fans beware: you will never leave this site). Last week, the site announced a brand new "trending tab," which allows users to track—in real time—the day's most popular wedding trends. We're hoping this will help people rethink their stupid wedding ideas, such as no-tech rules and anything forest-themed.
IFTTT tells the Times This week, web automation app If This Then That (IFTTT) announced a new partnership with The New York Times. The app, which launched in 2010, niftily combines your online activities to save you time: Check in on Foursquare, and have your Facebook status update immediately; get a text message whenever your weather app says it's going to thunderstorm. With IFTTT's new Times partnership, users can get alerts whenever a story is posted in their favorite section, or instantaneously share popular news stories on their Facebook timelines, to give a few examples. Now you'll have no excuse not to read the news, you lazy jerk.
Login to health Because there's nothing worse than having to go back and find your immunization records from age six months, Health IT startup Mana Health has been awarded a contract to build a "Patient Portal" for New Yorkers: basically, a website that'll let you access your healthcare records online. "New Yorkers do everything else online. It's imperative that they also be able to access their healthcare data online, whenever they need it," said David Whitlinger, Executive Director of the New York eHealth Collaborative, who'll be assisting Mana Health with the project. The portal's expected to launch in early 2014.
Join the MakerBot experience Wait—you mean you don't have a MakerBot Replicator 2 Desktop 3D Printer just chilling in your living room, servicing all your 3D printing needs? In that case, you should probably head to the Microsoft Store, where the "MakerBot Experience" will give you a "hands-on 3D printing demonstration." You'll see the exciting process in action (is it actually exciting to watch?) and, of course, have the opportunity to purchase a 3D printer of your own. While previously only available on the west coast, the illusive "Experience" has added 15 additional Microsoft Stores to its repertoire, including one in White Plains, NY. Yeah, yeah, it's not the Flatiron, but it's 3D printing, you guys!
Schmooze like a proper techie New to the NYC tech startup scene? Do names like "TechStars" and "HackNY" make you want to curl up in a ball of confusion and just stick to Facebooking forever? Well, worry not—this Friday at 6 p.m., General Assembly West is offering an "Introduction to the NYC Startup Community Class," where you'll get "the inside scoop on key events/meetups to attend, people, companies, VCs, blogs, incubators, programs, hot issues, and more."