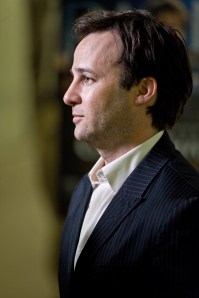 We were at the Four Seasons during The Observer's 25th anniversary party, when a colleague pointed to a short, slightly nebbishy-looking man standing among notables like Mayor Michael Bloomberg, Katie Holmes and Spike Lee.
"I know that guy," he said. "Where do I know that guy from?"
We suggested various TV shows, including Mad Men, but nothing stuck. "No, I think I know that guy, like, from real life," said our co-worker. Perhaps he did. The matter was almost dropped when Harvey Weinstein came barreling up to our subject.
"Danny," he said. "Look, I really need to talk to you." The two walked off together, with Mr. Weinstein's giant paw dwarfing the other man's shoulder.
If anything, the whole ordeal left our colleague even more confused about who this guy was, why he looked so familiar and why one of Hollywood's biggest producers would require a meeting with him in the middle of a party.

Not that it's unusual for Danny Strong, 39, to get recognized; he played supporting characters on cult shows like Buffy the Vampire Slayer, Gilmore Girls and Mad Men, even if only in a "hey, that guy!" way. But while playing scenes against '90s-era Sarah Michelle Gellar might get a person mobbed at Comic Con, the same can't necessarily be said for a person who is an Emmy-winning screenwriter for the HBO adaptations of Game Change and Recount; has penned the new Oprah-Forest Whitaker vehicle, Lee Daniels' The Butler; and is finishing future installments of The Da Vinci Code and Hunger Game franchises.
Yet as Mr. Weinstein's actions will attest, Mr. Strong is one of the most in-demand writers in Hollywood at the moment—a moment for which he couldn't be more perfectly positioned.
Recently The New York Times came out with a trend story about the moneymaking successes of "next-wave nonfiction," proclaiming that "reality-based narratives" were on the upsurge once again. One only has to look at A-listers like Ashton Kutcher playing Steve Jobs, Tom Hanks playing Captain Richard Phillips (the Navy SEAL who was captured by the Somalian pirates) and Benedict Cumberbatch dying his hair blond to become Julian Assange—or anything that Aaron Sorkin has directed in the past two years, for that matter.
In 2012, Mr. Strong helped HBO dominate the awards field with the movie Game Change, directed by Jay Roach and based on a portion of a nonfiction book about the 2008 presidential campaign that the network optioned before Mark Halperin and John Heilemann had actually written it.