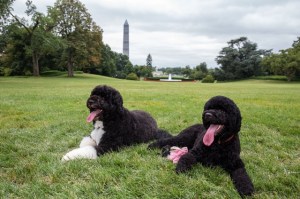 The Daily Caller, the conservative website founded by Tucker Carlson, is calling out the first African-American President of the United States for not having any white dogs as pets.
"With the addition of Sunny, the Obamas now have two black Portuguese water dogs. The Obamas do not have any white dogs," reporter Patrick Howley noted in a blog post last night about the latest canine addition to the First Family.
The post also specifies that the new dog, Sunny, who, like her counterpart Bo, is a Portuguese Water Dog born in Michigan, where "the unemployment rate was 8.8 percent last month."
They further note the breed is not cheap: "'A Portuguese Water Dog can range in cost wildly. On average, one will pay between $1,400 and $2,000. President Barack Obama has this breed of animal,' according to an answer on Ask.com."
Unlike "on the Washington Post or the Huffington Post or Buzzfeed or whatever," where "you'll probably see all kinds of listicles and memes about how cute it is," as The Daily Caller put it, here you get the unvarnished reality: The Obamas have expensive, non-white dogs.
The New York Observer did not reach out to the White House for comment.