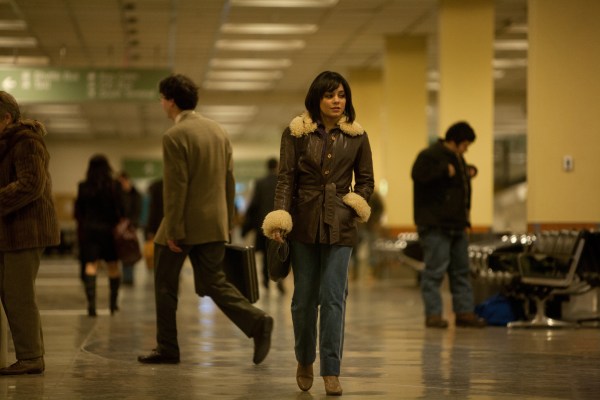 There are a few reasons to be excited about The Frozen Ground, Scott Walker's unfocused and ultimately disappointing debut feature, and they are Nicolas Cage, John Cusack and 50 Cent.
The film, which takes place in and around Anchorage, Alaska, in 1983, makes some amusing casting choices. It stars Mr. Cage as a morally upright state trooper named Jack Halcombe. Just two weeks before he's set to leave the police force for a job with an oil company, he gets hung up on catching a serial killer, Robert Hansen (a stolid Mr. Cusack), who for years has been raping and murdering young women and then burying their bodies in the wilderness. Mr. Cent is also here in a relatively minor role as a loser pimp named Clate Johnson, and Vanessa Hudgens plays a 17-year-old prostitute who manages to escape Hansen's abduction early in the film; she's the only person who can testify against him.
So there you have it: the basic plot and actors that make this movie enticing. But viewers looking for a gritty crime drama or—based on the potent combination of Mr. Cage and Mr. Cent—a kind of parody will not find either here. The Frozen Ground takes itself too seriously for that.
To be fair, a sense of gravity, if not successful, was in order: The Frozen Ground is based on actual events. Robert Hansen was, in fact, a serial killer who managed to stay under the radar as a small-town baker and family man while murdering as many as 21 women over the course of three years in the early 1980s. Mr. Halcombe is inspired by the real-life detective Glenn Flothe. Cindy Paulson (Ms. Hudgens's character) also existed; this movie is the first time her story has been told.
The problem—well, one of them, anyway—is that The Frozen Ground is not really a movie about Paulson, nor is it about Halcombe or Hansen. In its fidelity to real events, it becomes a movie about the story of these characters; the film maintains a safe distance from all three of them.
This is unfortunate, because The Frozen Ground could have made for a compelling psychological thriller in the same vein as Christopher Nolan's Alaska-set Insomnia (2002) or a weird, hardboiled noir like Werner Herzog's engaging if clunkily titled Bad Lieutenant: Port of Call New Orleans (2009), which cast Mr. Cage as a drug-addled police sergeant.
The Frozen Ground is instead a vague and forgettable crime thriller that would have benefited from more character development or at least a grounding of the narrative in one central protagonist. That would have been a tough choice—all three characters' stories are inherently compelling—but remaining undecided on it is the film's fatal flaw. If there is a default main character, it is, perhaps unsurprisingly, Mr. Cage's stoic Halcombe. But the attention given to him is not nearly enough (and the excellent Radha Mitchell, as his wife, is woefully ignored).
All this is not to imply that the film lacks dramatic tension or falls completely flat. There are tense moments, for instance, as Mr. Cusack's sociopathic character wanders around Anchorage's seedy red-light district in search of Paulson or when Halcombe finally brings in the serial killer for questioning.
Mostly, though, The Frozen Ground feels like a wasted opportunity.
THE FROZEN GROUND
WRITTEN BY: Scott Walker
DIRECTED BY: Scott Walker
STARRING: Vanessa Hudgens, Nicolas Cage and Dean Norris
RUNNING TIME: 105 min.
RATING: 1/4