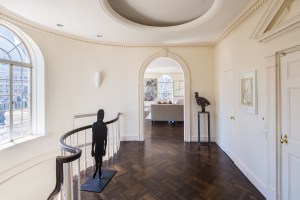 Well, we can't accuse Dolly Lenz of slacking off at her new job. The Manhattan super broker, simultaneously revered and loathed by her fellow brokers, left Douglas Elliman earlier this summer to start her own brokerage, and she's just landed her first bold-faced listing: Bernie Madoff's old penthouse.

Kids toy mogul Alfred Kahn and wife Patsy picked up the penthouse at 133 East 64th Street back in 2010 from the United States of America (so reads the deed), which seized the property from Mr. Madoff and his wife in order to compensate the victims of his Ponzi scheme. Back then they paid just $8 million for the co-op, which reportedly measures 4,000 square feet.
What a difference three years makes and a little more distance from the Madoff scandal makes—the couple are now trying to offload the apartment for an eye-popping $17.25 million, according to the StreetEasy listing (if Ms. Lenz and the listing have a website of their own, we can't find it—but who needs HTML when you're Dolly Lenz?).
Before the 2010 sale even showed up in property records, the Kahns told the New York Post that they were already consulting with an architect on renovations, but if they ever did any, there's no trace of them. The apartment looks much better staged than the 2010 listing, and the floors look like they may have been stripped and stained and the walls were definitely repainted a more classic white. But aside from those minor alterations, it looks like the Kahns are going for a pure flip.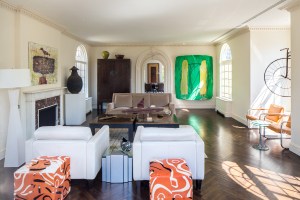 "I would like to see the renovation before I make a comment" on the price, Brown Harris Stevens broker John Burger told The Observer, "but penthouses are very difficult to price. It's very different from pricing, say, an A-line in a building that repeats itself 12 times."
"It's a one-of-a-kind penthouse—I remember it well." (He should, since he offered to sell it on a pro bono basis for the federal marshals who seized it.) "The upstairs and the entertainment rooms are all very grand—very high ceilings, Palladian windows. But it's an upside-down apartment—the entertainment rooms are on the upper level and the bedrooms are on the lower level," he said. "It's rare that you find an upside-down apartment in a prewar building."
"But it's a lovely location," he continued. "Yes, it's Lexington and not Park, but it's also 64th Street between Park and Lex, which is one of the most beautiful blocks in the city."
More than 100-percent-appreciation-in-three-years beautiful, though?
When reached for comment on her cell phone, Ms. Lenz responded, in a somewhat robotic-sounding voice, "The mailbox is full and cannot accept any messages at this time. Goodbye."