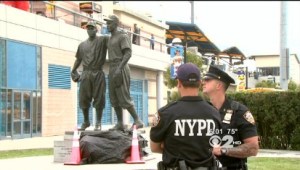 The New York Daily News is taking a stand against the criminal(s) who defaced the Jackie Robinson and Pee Wee Reese statue outside MCU Park in Coney Island. Discovered Wednesday, the messages scrawled in black marker were: "Hile (sic) Hitler," "Die N—-r" and "F–k Jackie Robinson and all N——s."
Now NYDN is offering a large chunk of change for the perps of the racist graffiti.

The article puts the word on the street:
In a bid to help cops catch the hate-filled coward, the Daily News is offering a $10,000 reward for information leading to an arrest and conviction. Anyone with information should call Crime Stoppers at (800) 577-TIPS.
This kind of public service is one way EIC Colin Myler has differentiated the News from rival tabloids like, say, The New York Post since taking over nearly a year and a half ago. The New York Daily News has become an outspoken advocate for gun control in the wake of the Sandy shootings, even if the cover issue has sometimes seemed like an illogical choice for a cover story.
It might not be that much money, but hey, when was the last time Rupert Murdoch offered anyone–outside of flailing web platform founders, of course– $10,000?