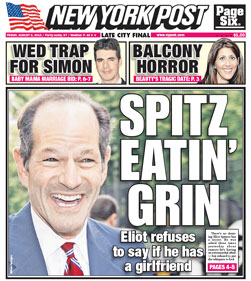 The New York Post is now apparently publishing readers' idle speculation as "tips."
Post political columnist Michael Goodwin's last item in today's piece includes a "scoop, if true" from a reader named Don Reed. It seems that Mr. Reed thinks that comptroller candidate Eliot Spitzer's secret girlfriend is none other than Anthony Weiner's wife, Huma Abedin.
If true, indeed! Here's the true-or-not-true scoop:
Rumor mill crankin' on Eliot mess

Reader Don Reed has a scoop, if true. "People are going nuts trying to smoke out the identity of Eliot Spitzer's clandestine girlfriend," he writes. "I think it's Huma."

Stop the presses!
Meanwhile, the Post, more than any other outlet, has been relentless on the "Spitzer has a girlfriend" beat, which is just rumors at this point. (Mr. Spitzer refuses to answer the question, so that's the current angle.)
So, enterprising readers, go right ahead and send the Post any thoughts about Messrs. Spitzer and Weiner. This is how you really get that rumor mill crankin'.