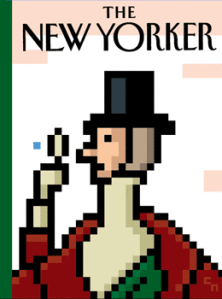 The New Yorker continues it's expansion into digital with Currency, a new blog about, what else, money. The business blog, which is edited by WSJ vet Vauhini Vara (who was hired by NewYorker.com in mid-July) will have original content, as well as no doubt plentiful access to the archives. The blog is part of The Business Pages the magazine's digital business section that launched in February.
The blog has lined up New Yorker writers John Cassidy, James Surowiecki, Tad Friend, Ken Auletta, Dana Goodyear, Connie Bruck, and George Packer to contribute to the site. Currency launched this morning with a story by Mr. Friend (with the bloggy title "Is Elon Musk's Hyperloop a Pipedream"), a post by Mr. Surowiecki on shareholder activism and a collection of New Yorker profiles of business icons from the past 80 years (those archives do come in handy!).
Currency is the latest in The New Yorker's push to expand NewYorker.com, which is edited by Nicholas Thompson. Matt Buchanan was hired in February to launch the site's science and tech section, and Michael Agger and Sasha Weiss were hired earlier this year to expand the site's cultural coverage.