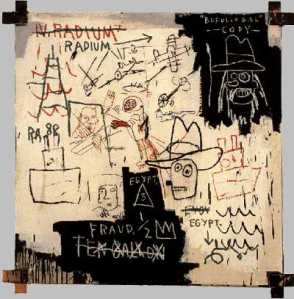 The New York Daily News reports that Michael Schulhof, son of collectors Rudolph and Hannelore Schulhof, has sued Lisa Jacobs, curator of the Schulhof Collection, for allegedly pocketing $1 million in the sale of a painting by Jean-Michel Basquiat.
In 2011, according to court papers, Hannelore Schulhof asked Ms. Jacobs to sell Basquiat's Future Sciences Versus the Man (1983) in hopes of raising $6 million. Ms. Jacobs allegedly sold the work for $6.5 million and then told Schulhof she had only managed to get $5.5 million for it. Ms. Schulhof died in 2012; her husband died in 1999.
Read more at the Daily News.