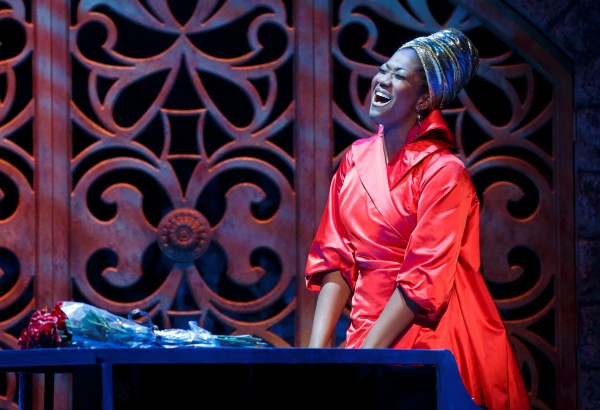 It's rare that an actor's way into a role is his character's "universal take on mankind," but such is the case for Eric Anderson, who plays Rabbi Sholomo Carlebach, the subject of the new musical Soul Doctor. Carlebach, who died in 1994 and was known as the "Singing Rabbi" was an Orthodox Jew who, in the 1960s, was thrust into the world of rock 'n' roll. "That transformed him into something of a hipster guard of universal love," Mr. Anderson said. Soul Doctor, which opens at Circle in the Square on August 15, hones in on a major stop in Carlebach's highly secular travels: Nina Simone. Decked out in gold-lamé turban and free-flowing scarlet gown, Simone (played by Amber Iman) gets off the first line in his musical bio, dubbing him "my brother from another mother." She was his "sister from another mister." They were musical soul mates, her gospel spirituals blending rapturously with his emotional push for melody.
"Sholomo ran across the line all the time, but people still revered him as a rabbi," said Mr. Anderson. "It was a tricky life for him because he was looked upon as such a spiritual icon, but it was very, very difficult for him to be in as many places as he wanted to be in life."
Despite being polar opposites physically, Mr. Carlebach and Ms. Simone discovered they had plenty of common ground on which to build a relationship. Both were born very much in the faith. Since her mother was a minister, Eunice Kathleen Waymon invented a pseudonym to so she could "play the devil's music in the fires of hell." ("Nina," Spanish for "little girl," was a nickname a boyfriend hung on her; "Simone" she swiped from French actress Simone Signoret). The sixth of eight children, she left home on the high road, planning to become a concert pianist, but a well-received audition at Philadelphia's prestigious Curtis Institute of Music did not earn her a scholarship (because of race, she believed), and that rejection sent her into sleazy jazz joints for jobs.
"Neither belonged in that club," said the show's director-librettist, Daniel S. Wise. "These two children of clergy, both survivors of prejudice, bonded. At first, they misunderstood each other. She looked at him as a white man who grew up as a privileged person, and she was a victim of white prejudice," he said. "That rejection by Curtis severely limited her dreams, but from it evolved a great feeling for her people."
Mr. Carlebach's flight from prejudice took him from Nazi Germany to New York City where he was raised in his father's small synagogue. When he crossed paths with Ms. Simone, he was burned out from dry dogma. "By then," said Mr. Wise, "he was in a state of crisis: How, he'd ask himself, was he going to stay connected to his roots as a rabbi, basically the scion of a dynasty of rabbis, and at the same time reinvigorate what he considered was the bankrupt Jewish culture of the time?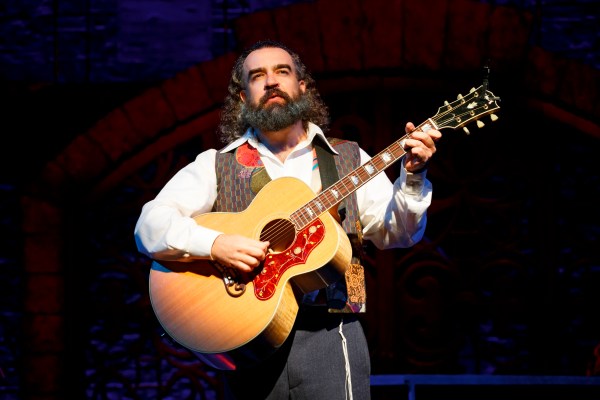 "He felt that the Holocaust not only destroyed the central bastion of Jewish culture, which was Europe, because at that time American Jewish culture was an extraction of European traditional culture," Mr. Wise continued. "He also felt the Holocaust had charred the heart and soul of Judaism. The young generation was not interested in their heritage or their roots or even in what Judaism had to offer. He felt that the only way around this was to stop importing an Eastern European klezmer experience of Judaism."
Mr. Anderson sees this as a kind of crossroads for his character. "Sholomo was one of the first modern Jews to challenge boundaries that were put up. In this exploring, the fact that he was able to be in the company of people like Bob Dylan and the young people in Haight-Ashbury, I think, really broadened his life—and, of course, his music. His music became a hybrid of what he grew up with and experienced."
The wellspring of melodies that resulted was one thing that prompted Mr. Anderson to slip out of his comfy Kinky Boots ensemble slot and into the chancier star spot in Soul Doctor. He went to town on the role last August when the show tested the waters here with a tryout at NYTW and walked away with a Drama Desk Award nomination.
"It has been a while since I've been in a show where the songs so instantly stick in your head," Mr. Anderson said. "There's a magic to them. He had no problem writing a melody—that was part of his great gift—and then to be able to incorporate the music of Nina Simone into the show as well gives it such an amazing, multi-flavored experience."
In the show, Mr. Carlebach and Ms. Simone meet to the tune of "I Put a Spell on You" and harmonize ambiguously thereafter. Mr. Wise's script dances gingerly around the depth of their relationship, without coming to any concrete conclusions.
"I've heard various things from people who knew the two of them," he said. "Some said Nina had told them she had a fling with a singing rabbi, and a member of Sholomo's family told me he had admitted to an 'affair' with Nina Simone. That was his word.
"He implied as much in an interview he gave shortly before he died. He said the last time he saw Nina was backstage at the Village Gate," Mr. Wise added. "She was pregnant at the time, and they hugged. Her then husband came up and was very huffy. He was an ex-NYPD detective, very jealous and very violent. He said, 'How do I know that you're not the real father of this baby?' He was out for blood. Sholomo said, 'Well, we'll have to wait. If the baby's born and comes out with a beard, you'll know he's mine.' That defused the whole thing. People laughed, and Sholomo got out with his life."
Amber Iman, who made a mark for herself last year at New York Theater Workshop (in Paula Vogel's A Civil War Christmas), makes her Broadway debut here as Nina. She's been preparing by reading Simone's autobiography, I Put a Spell on You, and listening to her music.
"To sing those songs, to tell her story—it's an opportunity I'm still trying to wrap my mind around," she said.
The role has grown considerably in the year since the NYTW presentation, mainly because critics pointed out the most compelling aspect of the show was the kinetic first meeting between Mr. Carlebach and Ms. Simone.
"We said in the beginning it's not Nina's story," Ms. Iman said. "What you want to see and what you want to feel is a grounded woman. As long as we're painting that picture, it doesn't matter if I'm making a conscious effort to sound like her. So it's a good mix of Amber and Nina together that I think is going to do the job."
Meanwhile, in this world, Sholomo Carlebach's daughter, Neshema Carlebach, continues to carry his music through the world, backed by an African-American Baptist choir. Recently, she performed in Japan. "I sang for 2,000 Japanese people who had no idea who he was," she said. "But they felt it the same way that everyone else feels it. His music is a powerful thing to put out in the world. It's about the power of what a song can do. If you allow it to open you, you're limitless."