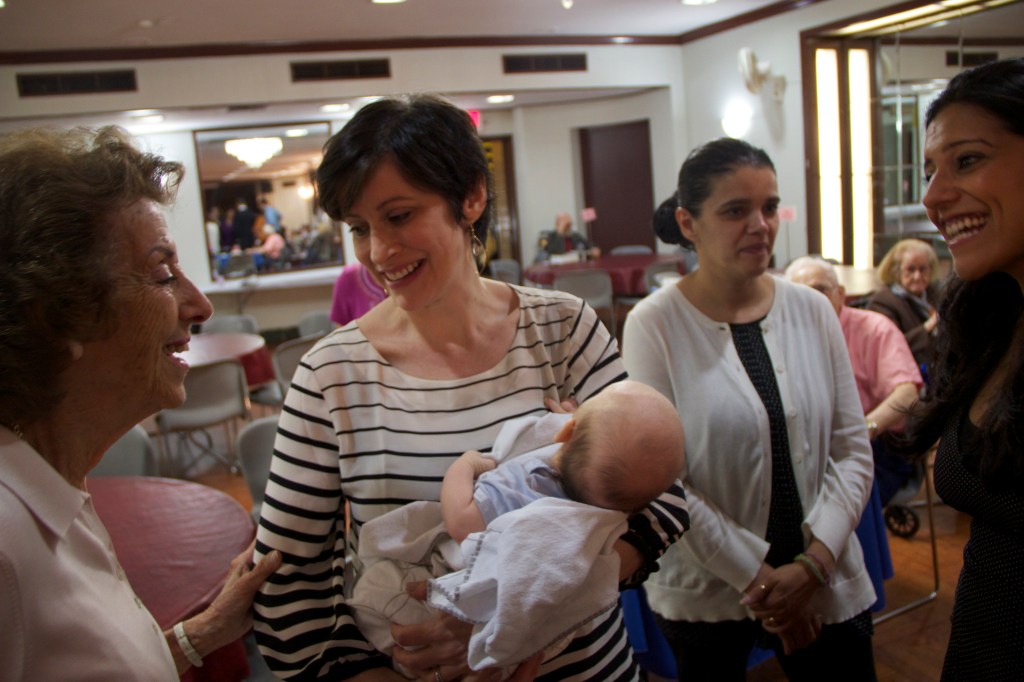 It was time for Scott Stringer's wife and baby to shine.
Elyse Buxbaum–a.k.a. Mrs. Stringer–officially hit the trail for the first time this morning on behalf of her husband's city comptroller campaign, with the pair's 11-week-old son, Miles, in tow. Accompanied by public advocate hopeful Reshma Saujani, Ms. Buxbaum visited two senior living centers in Queens, showing off her bundle of joy to the elderly residents milling about before lunch.
"This is his wife," Stringer spokeswoman Audrey Gelman said to a resident who was familiar with the borough president. "Do you like babies?"
People did, in fact, seem to like babies and one man even jokingly asked Ms. Buxbaum if her husband admitted that Miles was hers.
Taking to the stage in front of a somewhat engaged crowd of elderly citizens awaiting Challah bread, Ms. Buxbaum emphasized her husband's strong values.
"I'm here to support my husband Scott Stringer who's running for comptroller. I just want to tell you," she began, interrupted by the crying baby in her arms. "Do you hear his voice on this? This is saying, 'Give us your support.' He's loud and he's proud."
"I just want to tell you that Scott is a very honest man, he has a tremendous amount of integrity," Ms. Buxbaum continued as her son's cries quieted. "He has 20 years of leadership and experience serving the public. He is a fighter for the seniors, for children, for students and for women. I am truly proud to be his wife and I do hope that you will give him your support in the comptroller's race on September 10th."
While Ms. Buxbaum has been a constant presence on the campaign trail, the morning marked her first solo events without her husband by her side. But she dismissed the idea that the appearance was part of a deliberate effort to contrast the Manhattan borough president's photogenic family with that of his scandal-scarred electoral rival, ex-Gov. Eliot Spitzer, whose wife has not made a single appearance on the trail.
"I mean all I can say is that I'm here supporting Scott and there's nowhere else that I'd rather be," Ms. Buxbaumold told Politicker, claiming that she couldn't find a sitter to watch their son this morning. Ms. Buxbaum also declined to talk about Mr. Spitzer's infamous prostitution scandal and whether the public had forgiven him. "I can't speak for what other people think," she said, "what other people are saying."
Her counterpart today, Ms. Saujani, was far less reserved, however, when it came to criticizing Mr. Spitzer's indiscretions with women.
"That's why I launched my coalition 'Up to Us,' Ms. Saujani said–plugging her own campaign when asked about the comptroller candidates. "I think that scandals in politics have like taken over the conversation on substance. And women need to talk about substance more than anybody else."
Ms. Buxbaum said she plans on making more stops during the final weeks of the campaign.