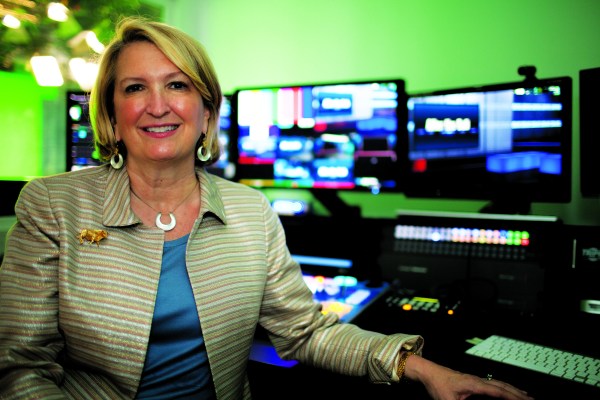 Elisabeth DeMarse still has her mug from Fucked Company. The CEO of the once innovative but now struggling financial website TheStreet.com says it reminds her of her days at Bankrate, when she was called in to steer the ailing personal finance company away from imminent bankruptcy in 2000—no easy task. "My first day on the job, they wrote about how pathetic this business was and how I was totally screwed," Ms. DeMarse recalled.
Not one to accept such fatalism, Ms. DeMarse called up Philip J. Kaplan, who ran Fucked Company, the now-defunct Internet business website that chronicled moribund technology ventures dying off in the wake of the dot-com bust. Would he take down his post, she wondered? It was, she noted, bad for morale.
Mr. Kaplan sent her the mug instead.
That gesture only fueled her resolve as CEO of the floundering financial news site, which was ranked at No. 7 on the Barron's burn-rate list, a compendium of Internet outfits that were running through cash very quickly. Ms. DeMarse wasted little time bringing the business out of the gutter, letting dozens of people go on that same first day, restructuring the Florida-based company and transforming a written-off financial news site into a vibrant enterprise.
Her style earned her the nickname "Hurricane Elisabeth." The cultural gulf between the pushy New Yorker trained at Michael Bloomberg's knee and the bulk of the company, which was headquartered in the Jimmy Buffett-like serenity of West Palm Beach, made for much hilarity.
"I was hired by Jeff Cunningham, the former publisher of Forbes, who was like a god to me," said Ms. DeMarse, 59. "He had made a fortune off of CMGI stock, and he bought an actual island off of Cape Ann, where I also have a house. The island was called Crow Island and cost $6 million. He sold it in 2011 for $14 million. Both transactions were profiled in The Wall Street Journal. Anyway, Jeff hired me, tossed me the keys, and off I went. I was commuting [to] Florida. The team in Florida used to call me 'Lovey' and Jeff 'Thurston Howell III,' after Gilligan's Island. I wore Lillys and cruisewear and Mobe pearl earrings. And Jeff Cunningham was decked out in blue blazers and deck shoes. We were a pair!"
And the pairing worked. Having fired just about everyone, Ms. DeMarse and the staff that remained whipped the company into shape and saved it from the dot-com funeral that so many of Bankrate's peers endured.
"It's white-knuckle stuff," Ms. DeMarse recalled on a recent afternoon in her office in the Financial District, where her Fucked Company mug now sits beside an array of Lucite deal toys. "You want to do it fast and hard and get it over with quickly."
Ms. DeMarse, who lives on the Upper West Side with her two children, vacations in Annisquam, Mass., where the family restored a 1725 house by the water and filled it with American impressionist art—Emile Gruppe, George Noyes, Marguerite Pearson, Aldro Hibbard. Her daughter Katie carried on a family tradition by debuting at the International Debutante Ball in 2011, and her husband Jim is a working actor who memorably played one of the "Wonder Bread" neighbors who golfs with Tony on The Sopranos.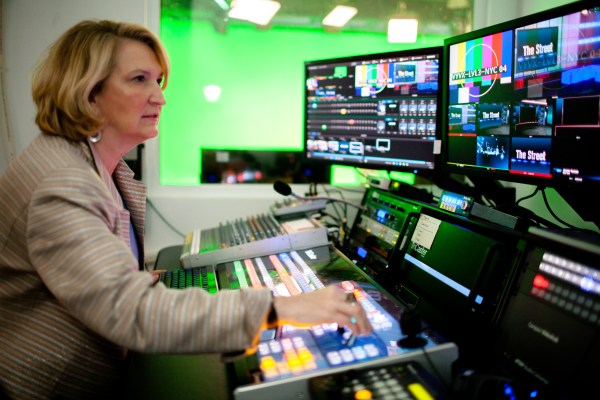 This is an unlikely background for someone who earned a reputation as a tough-as-nails turnaround specialist thanks to her accomplishments at Bankrate. She has been using those same strategies since taking over TheStreet a little more than a year ago. The investing news and advice website, which was founded with great fanfare by Jim Cramer and Marty Peretz in 1996, has struggled to meet its potential.
"When things weren't going how I wanted," Ms. DeMarse remembered of her Bankrate days, "I'd throw up my feet and make a big scene and try to get people focused." (Disclosure: Observer editor in chief Ken Kurson worked for Bankrate at the time that Ms. DeMarse became its CEO.)
Ms. DeMarse has not had to go to such extremes at TheStreet just yet, but she has been making her presence known. Last year, she let go of 100 people, and she recently "took a blowtorch" to the entire ad sales department, bringing in a new team from Forbes. She's been working closely with Mr. Cramer to improve TheStreet's lucrative but mishandled subscription business and has added a state-of-the-art recording studio. The company also bought The Deal from Wasserstein & Co., paying $5.8 million for the M&A magazine and moving it exclusively online.
While all of the changes have, it seems, been positive—the subscription business is flourishing, for one, and getting rid of excess baggage has eliminated $15 million in costs—some might argue that inflicting so many transformations right out of the gate could hurt morale.
At Bankrate, "people were disappointed, hostile and angry about what management had done to the business," remembered Ned Newhouse, who worked as the company's chief revenue officer during Ms. DeMarse's tenure and then went on to be one of the founders of 24/7 Media. He describes how many employees were "furious" by the time Ms. DeMarse arrived, having bought into the IPO and watched it plummet to 85 cents. In Ms. DeMarse's view, having inherited a company whose stock was battered and whose employees were demoralized, a complete revamp wasn't just the right thing; it was the only thing—both at Bankrate and at TheStreet.
"I think that there's always snipers left over after a restructuring, and they're really kind of poison in the organization," she said. But, she added, "You want to reassure the people who are left that they're here to stay, and that as long as they're productive, we'll build the future together."