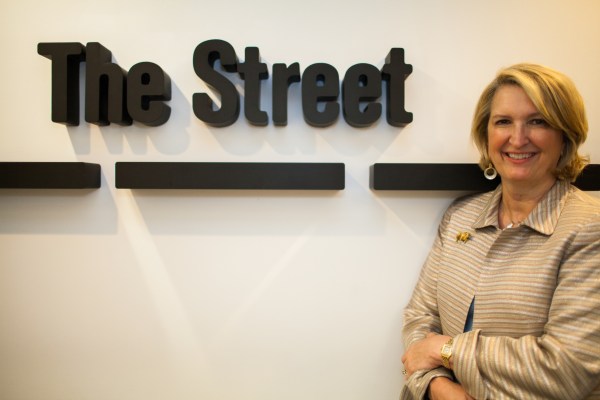 Ms. DeMarse came to TheStreet at the behest of Woody Marshall of Technology Crossover Ventures, a large shareholder in the company. After a little more than a year on the job, Ms. DeMarse has imbued TheStreet, which went public in the late '90s but lost its way in the ensuing decade or so, with a fresh sense of direction.
It wasn't easy. When Ms. DeMarse stepped in, TheStreet was mired in stagnancy, according to Bill Martin, a former Bankrate board member who bought a 12.5 percent stake in TheStreet upon Ms. DeMarse's arrival.
Mr. Cramer, host of CNBC's Mad Money and Squawk on the Street, told the new CEO that it was going to be "a complete mess."
Ms. DeMarse was undeterred. "My biggest challenge at TheStreet is making sure that our work force is passionate about the markets," Ms. DeMarse told The Observer, adding that the site had become a "snoozy read." "We should be like ESPN. You shouldn't work at TheStreet unless you love stocks, love the markets and know what a PEG ratio is."
"I wanted a really big change," she continued, "and I wanted to be in a place where I could have a nice big canvas to paint on."
She got what she wanted. TheStreet is a diverse company with a relatively deep infrastructure. Along with its established subscription business—featuring the work of writers like Doug Kass and Mr. Cramer—TheStreet has "a big front porch," as Ms. DeMarse put it.
The problem, she noted, was that the ur-financial news site had alienated its readers, its advertisers, its traffic partners and its work force.
"Because it was one of the original Internet companies in finance, there was an arrogance here that did not serve the actual business very well," Ms. DeMarse said. "It was almost impossible to get anything collaborative or productive done," which was stifling the company's growth.
Because TheStreet—whose competitors include Seeking Alpha, Business Insider, Minyanville and StockTwits—is sui generis, it has a natural edge. Successful subscription services are notoriously difficult to build, but the basic architecture of the company hasn't changed much since it was launched, and it's had about 17 years to entrench itself in the field. (Subscriptions account for 85 percent of the company's revenue, while online advertising makes up the rest.)
Still, the subscription service at TheStreet, Ms. DeMarse said, was being run inefficiently, and so she spent most of her first year streamlining the operation, among other things, before moving to fix the ad business.
Ms. DeMarse also gave Mr. Cramer, who had not been engaged in the day-to-day affairs of the business for quite some time, a leading role in editorial decision-making.
"Elisabeth does a good job and makes a lot of things work that didn't work before," Mr. Cramer said, noting that the company had been pigeonholed by its association with his name. "There's a huge amount of talent there, away from me," he added, "and she's allowed that talent to flourish, which is a godsend."
Indeed, by most accounts things are going quite smoothly after the initial storm of restructuring—web traffic shot up 25 percent last year—though many more changes are on their way. And while Ms. DeMarse may not have had to bring the hurricane at the outset in the way she did at Bankrate, she said it's still within her.
"I feel a sense of urgency inside as much as I ever have," she said. "I'm very competitive, I'm very impatient—but I've learned to mask it better."
With that in mind, it's likely that the prevailing calm is merely the eye of the storm.
CORRECTION: An earlier version of this story mischaracterized Mr. Newhouse's perspective on Ms. DeMarse's arrival and also described him as a "founder" of 24/7 Media, when in fact he was one of several co-founders. The Observer regrets the errors.