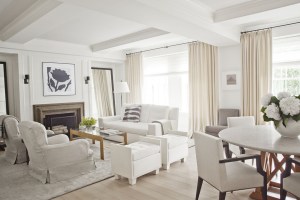 From Barclays Center to Hudson Yards, Kingdom Tower in Jeddah to the Petronas Towers in Kuala Lumpur, structural engineering firm Thornton Tomasetti has worked on some of the world's (and New York's) most iconic projects. But when chief executive officer Thomas Z. Scarangello and his wife Roxanne Donovan (a real estate PR maven, head of Great Ink, who was once described in these pink pages as "like a younger, sexier Howard Rubenstein") were looking to upgrade to a large apartment, they went with something more traditional: Philip House. (Fred Peters and Judy Thorn at Warburg were their brokers.)
The condo conversion at 141 East 88th Street took a classical building on Lexington between 88th and 89th and turned it into a condo building for the modern age, with developer Cheshire Group buying out the rent stabilized tenants and gradually converting it into a rare prewar slice of the Upper East Side that you can buy into without subjecting yourself to the vagaries of an intrusive co-op board.
"It was pretty swank stuff for a rental, even back then," Cheshire principal Susan Hewitt told the New York Daily News of the building's opening nearly a century ago, in 1920.
And now? Even swankier. Mr. Scarangello and Ms. Donovan's 10th-floor, five-bedroom unit—designed, like the rest of the units, by Victoria Hagan—closed for $8.2 million (a number that includes various fees—Cheshire was asking $8.14 million).
And that's just the start.
As for listing the penthouses, "We're planning on doing that this fall," Jennifer Steig, the other principal at the Cheshire Group, told The Observer. "For now I'd say the range—and it hasn't been finalized—is between $8 and $15 million. We have some pretty big ones, including one that could be converted to a five-bedrooms. We have a couple that are over 3,000 square feet—they're duplexes and they're going to be pretty cool."