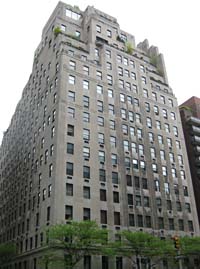 If you're trying to find a building to burglarize in New York, why waste your time on any of the merely rich co-ops surrounding Central Park? Just cut to the chase and go after the wealthiest of them all.
At least, that seems to be the approach taken by the thief (or thieves), who has carried out a series of burglaries at Manhattan's snootiest address, according to the New York Post. The limestone godhead is home to more billionaires than any other building in New York. (Famously rich rich guys John Thain, Howard Marks, Stephen Schwarzman and David Koch all live there.)
The biggest scandal to plague the fanciest of co-ops in recent memory has been the foreclosure proceedings filed against Elizabeth Macklowe and Kent Swig's apartment following the real estate power couple's estrangement and bitter divorce. That, and resident Ezra Merkin, who agreed to a $405 million settlement with New York State for directing money to financial fraudster Bernie Madoff's "investment" fund.
The building's thieves have nothing on Madoff, but they haven't done badly for themselves, picking up some $100,000 in jewels, watches and wedding rings during at least four separate incidents since May. (We expect the crime wave has left River House feeling pretty damn superior. The sprawling apartments at 740 Park may command two to five times what River House's do, but at least River House doesn't have a thief roaming its halls. And if it did, you can be damn sure that the Post wouldn't find out about it.)
Brown Harris Stevens, which manages the building, told the Post that it is looking into the thefts. But it might be hard to determine stole the items unless he or she is caught red-handed—all the crimes were reported in a date range, rather than on a specific day, and the super-wealthy residents who live at 740 Park naturally require small armies of staff to take care of all the mundane aspects of their lives, opening up the building to any number of non-residents.
The thieves' haul may also be much larger than has currently been reported because, as the Post noted, 740 Park's residents are so rich, and have so many things worth stealing in their sprawling apartments, that they may not have noticed that items were lifted until much, much later. It wouldn't be the first time that a billionaire failed to notice that his home had been cleaned out by criminals. Earlier this year it was reported that real estate mogul Tamir Sapir didn't realize that $200,000 worth of antique silver champagne buckets had been stolen from his Long Island mansion until he received a call from Sotheby's.