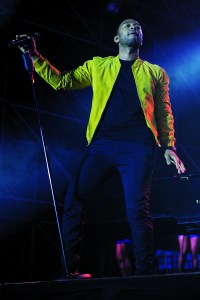 Scene's summer cover star, John Legend, is only in town for two days before jetting to Italy to marry his longtime love, supermodel Chrissy Teigen. And we have the Grammy winner for one night at the Box, where Legend will be toasted and croon songs to a teensy A-list crowd (think Jimmy Fallon) from his new album, "Love in the Future." The night is presented by Observer Media, Town (the chic real estate company) and beer company Heineken.
The Box, 189 Christie Street, (212) 982-9301, 7pm-10pm, by invitation only.
Party crashers are dunzo. zFace is a new app that is a party planner and power publicist's BFF as it allows guests to check in with facial recognition. How futuristic! The days of randos pretending to be A-list socialites are over. The launch, hosted by zkipster's David Becker and Daniel Dessauges with restaurant legend Serge Becker (of Miss. Lily's fame), will obviously be party-crasher free. The new velvet rope diss: Sorry, your face is not on the guest list.
Maisono, 98 Kenmare Street, (212) 274-9898, 7pm-10pm, by invitation only.