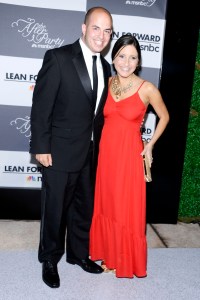 NY1's intrepid and perky traffic reporter Jamie Shupak's forthcoming ebook was announced last week. Trans-It Girl will be published in November by Polis Book, a digital start-up publisher that launched earlier this summer. The plot of Ms. Shupak's debut novel, which she describes as "fun, girly fiction" will be familiar to anyone who has followed Ms. Shupak's personal life.
The book follows a New York City traffic reporter named Guiliana Layne as she navigates being single for the first time in her adult life after her engagement to her college sweetheart is derailed. Soon, a media reporter begins courting her and she is tapped to write a gossip column. 
In real life, after Ms. Shupak's former fiancé broke off the engagement, she chronicled the challenges of dating in the age of Twitter for Complex and was named a New York Observer "power bachelorette." Soon, she began dating New York Times media reporter and power-Tweeter Brian Stelter (who had the distinction of being on both our power couple and power bachelors list within the same summer).
"On a base level, the description is of me. But a lot of the traits are so not me. Maybe it's things that I wish I did," Ms. Shupak said. "Guiliana burns the candle at both ends way better than I ever could." Ms. Shupak's alter-ego gets into trouble at work, which, according to Ms. Shupak, is very not her.
"Anyone who knows me knows I've never been in trouble a day in my life," she said.
Did Ms. Shupak have any misgivings about writing about her broken engagement?
"The story has always been out there," she said. "When I first started at NY1, I had a ring on my finger and then I didn't." Plus, she already covered it in her dating column.
And what does Mr. Stelter think about his girlfriend's roman à clef ?
Although Ms. Shupak said she couldn't speak for Mr. Stelter, she described him as "really excited" about the book and said she let him choose his character's name. He went with Ben.
"Some things about the character are so Brian and some things  are so not Brian," she said. "That's the fun of fiction."