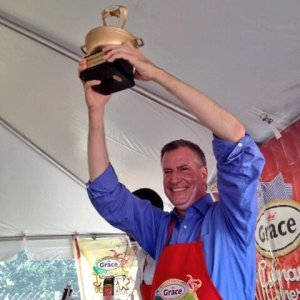 Two more polls have Public Advocate Bill de Blasio far ahead of his Democratic rivals less than two weeks before the primary–with former front-runner Christine Quinn now lagging in third.
According to a new New York Times/Siena College poll out this morning, Mr. de Blasio is now head-and-shoulders above his rivals, with 32 percent of the vote. Former Comptroller Bill Thompson and Ms. Quinn appear to be fighting it out to for a slot in the expected run-off, with Mr. Thompson at 18 percent and Ms. Quinn at 17 percent.
A second amNewYork-News 12 poll released Thursday tracked similar findings, with Mr. de Blasio at 29 percent, Mr. Thompson at 24 percent, and Ms. Quinn trailing even further behind, with just 17 percent of the likely Democratic vote.
Pollsters with both surveys credited the left-leaning Mr. de Blasio, once considered a long-shot, for tapping into a growing frustration with Mayor Michael Bloomberg's policies over the past 12 years, including anger over the NYPD's stop-and-frisk tactic and concerns over the city's growing lack of affordability.
"It's a momentum game," Penn Schoen Berland pollster Mike Berland told Newsday "Clearly, de Blasio has momentum up, Quinn has momentum down and Thompson just hangs in there."
"The competition at the moment appears to be a race between Thompson and Quinn to see who can finish second and make it to the runoff, assuming, of course, that de Blasio does not further grow his lead enough to hit the magic 40 percent," Siena College pollster Steven Greenberg said.
Both put former Congressman Anthony Weiner in the low double-digits, with City Comptroller John Liu in fifth.