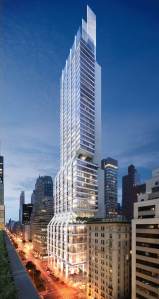 Michael Bloomberg appears desperate to pass the Midtown East rezoning before his 12-year stint as mayor ends, and with his announcement yesterday in the Daily News that the city would front some money for transit and pedestrian circulation improvements, he seems to have won over a key stakeholder: Manhattan Borough President Scott Stringer.
Mr. Stringer, though, does have a few conditions. Sixteen, to be exact.
Aside from asking that the transit money be advanced by the city and improvements, most likely involving adding more staircases around the subway station at Grand Central, happen before construction on new buildings begins, Mr. Stringer, who's facing an unexpected challenge from Eliot Spitzer for the office of city comptroller, also wants residential space to pay into the so-called District Improvement Bonus fund at a higher rate than office space, given housing's higher rents and sales prices.
He also wants more discretion in allowing developers to buy into the DIB fund, moving it from an as-of-right process to one that must be approved by a "more rigorous DIB committee"—which, naturally, he wants more local representation on.
Mr. Stringer also wants all hotels in the new district, which can fill up to 20 percent of new buildings, to require a special permit with City Council approval—an obvious hand-out to the hotel unions, as City Council always requires special permit seekers to go union.
Finally, buried as the last condition for Mr. Stringer's endorsement is a provision that appears geared specifically for L&L Holding Company, a developer seeking to rebuild an office tower on Park Avenue. The $750 million Norman Foster-designed project, called 425 Park Avenue, was up until now going to use a loophole that would allow it to rebuild the structure to its current square footage, so long as they keep 25 percent of the build square footage intact (normally it wouldn't be allowed, as it's overbuilt according to the current zoning).
But Mr. Stringer wants smaller buildings (code for 425 Park) to be able to rise before the 2017 sunrise provision is set to kicks in, in exchange for paying into the DIB fund, which is something that L&L wouldn't have to do if it used the rebuilding loophole. If Mr. Stringer's Midtown East proposals are enacted, L&L also wouldn't have to leave 25 percent of the building intact, giving it more flexibility when it comes to floor plates and ceiling heights on the lower floors.
While the New York Hotel Trades Council was pleased with Mr. Stringer's suggestions, Midtown's Community Board 5 was not.
"We're profoundly disappointed that Borough President Stringer in his recommendation did not secure answers to any of these critical questions," they wrote in a press release issued this afternoon, along with a list of questions about the plan. "What improvements are being proposed to the transit system in and around Grand Central Terminal?" they asked. "What assurances do we have that the next administration will be obligated to follow this administration's promises?"
Update: We've received the following statement from Josh Gold, at the New York Hotel Trades Council:
Let me be clear, being happy with BP Stringer's non-binding suggestions is far different then being happy with City Planning's proposal. We agree with the community boards that this rezoning is greatly lacking. This half-baked plan jeopardizes tens of thousands of middle class jobs in a City that has lost 100,000 middle class jobs in five years.