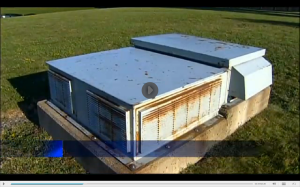 A Verizon worker recently learned the hard way that yes, he can hear you now–even in underground vaults.
Mike Hathaway parked his van on 71-year-old Howard Cook's lawn, CBS Boston reports. The cranky Mr. Cook got so pissed he trapped Mr. Hathaway in an underground storage vault, slammed the door, and then, as if that wasn't enough, piled huge rocks on top of it.Mr. Hathaway called 9-1-1 and police arrived to free him from the vault, which CBS Boston reports was running out of air quick. Mr. Cook, who owns the storage facility where the whole thing went down, is facing charges of kidnapping, CBS Boston says.
The report doesn't answer the question on everyone's mind: what kind of magical phone was Mr. Hathaway using that enabled him to contact the police and thwart his captor's plan from what was basically a freaking dungeon. Let us know, Mr. Hathway: we only have like two bars right now.
[H/T Geekosystem]