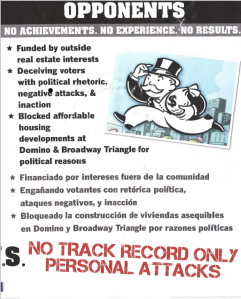 Former Assemblyman Vito Lopez, who resigned after a sexual harassment scandal and is now running for City Council, has a background that is basically made for an attack ad. For example: extremely lurid reports of official misconduct.
But that doesn't mean he can't send out negative mailers of his own.
In a mailer now circulating the Bushwick-based district, Mr. Lopez blasts his unnamed "opponents"–his main rival is Antonio Reynoso, the chief of staff to outgoing Councilwoman Diana Reyna, who has been endorsed by nearly every Democratic official and labor union–for having "no track record" and offering "only personal attacks."
This, the mailer indicates, contrasts sharply with Mr. Lopez's own "proven record of achievements." Mr. Lopez notes he is "supported by local tenants and resident leaders" and has provided the community "with housing, jobs, education and youth & senior services."
Reached for a response, Reynoso spokesman Dan Morris didn't mince words.
"Vito Lopez is a disgraced political hack wasting time and tax payer money on a Council race no one wants him to run. He abused his Assembly office, harassed young women, and enabled luxury developers to destroy the character of North Brooklyn neighborhoods," he said. "That's his real record."
"And now his desperation is clearly showing with this new mailer," Mr. Morris added. "Antonio Reynoso's track record of improving our schools, empowering small businesses, and creating affordable housing is well-known. That's why he has earned the support of civic leaders, progressive organizations, influential Democrats, and countless people across the city."
Despite the serious allegations against him, Mr. Lopez, who has deep roots in the district, is widely considered a viable candidate in the September 10 Democratic primary.
The Lopez campaign could not be reached for comment.
View the mailer below:
[scribd id=164318366 key=key-k6jfa2l7rn5ijqqcytk mode=scroll]