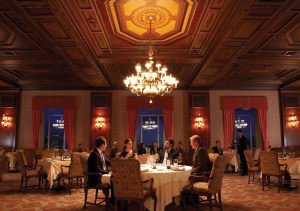 Hoping to get the weekend off? Be thankful you don't work at the New York Athletic Club.
Keisi Ballenilla, a former NYAC waitress, has claimed she and her co-workers were forced to engage in late-night orgies at the upscale Central Park South venue and serve as their boss's "harem" in return for prime hours and weekends off.
The New York Post reported that banquet supervisor Nesim Zuberi, 45, is being sued for allegedly forcing female employees to sexually pleasure him, while he took snapshots as mementos.
The revelations stem from a 2011 sexual harassment suit being brought forward by Ms. Ballenilla. In a deposition given earlier this year, she claimed Mr. Zuberi forced her to have sex with him on a pool table in the Club's 10th-floor billiards room. She said the demands continued even when she was pregnant with her partner's child and other employees at least partially corroborate her claims.
According to court reports, Mr. Zuberi showed off explicit photos, including one of himself having a threesome with his wife and a "Russian lady", to his colleagues. He is also alleged to have shared snapshots of his erect penis. (What is it with people doing that in this city?)
NYAC spokesman James O'Brien told The Post the allegations are false. "There's no truth to any of this. This girl, this woman, she is using this to her advantage. She's trying to benefit from this."
To add an extra element of "What the hell?" the court documents stated that one female banquet server was being coerced into sex with Mr. Zuberi as she was having sex with a Catholic priest who also worked there. We repeat, what the hell?