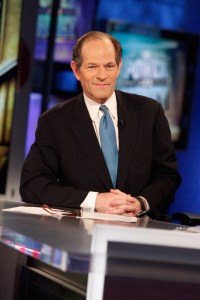 The city comptroller's race was ratcheted up a few notches with a particularly nasty televised debate this morning. But the rhetorical bout, which was also playing out in inboxes across the city, far from ended when the cameras stopped rolling.
Even during the debate, as the candidates were sparring, former Gov. Eliot Spitzer's campaign was sending out a flurry of "FACT CHECK" emails to reporters that totaled about 12,000 words. (They can be found in full on the new "Spitzer Response" Tumblr blog, which spans more than twice as long.)
Afterwards, flacks from both Manhattan Borough President Scott Stringer and Mr. Spitzer, declaring victory, sent out a barrage of emails explaining why their candidate was better suited to the office and slamming each others' bosses.
One of the notes from Spitzer's camp was entitled: "Memorandum RE: Eliot Spitzer's Debate Victory."
"What voters will take away from this debate," the memo declared, "is that Eliot Spitzer is the only candidate who showed the experience, leadership, and willingness to take on powerful interests to do what's right and to support the people of New York City."
The Stringer campaign would likely dispute that claim, however. "Word on the tweets – Scott wins," his spokeswoman wrote on Twitter. "Scrappy underdog, strong & authoritative." She later pointed to an online poll of the debate favoring Mr. Stringer.
And Mr. Stringer's operation was also no slouch when it came to lengthy press releases, which came in a wave following the debate, One missive, which totaled more than 5,000 words alone detailing Mr. Stringer's record.
It wasn't immediately clear which side won the press release debate.