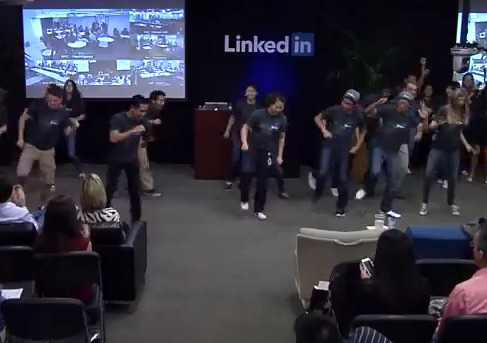 Ritual humiliation of the interns (by themselves or others) is pretty much a summer tradition at many offices across the country. But it seems that LinkedIn has taken the form to new heights.
Not only is there a four-year-running tradition of interns "disrupting" the regular company all-hands for "a surprise flash mob performance," but this caper is then filmed and uploaded to YouTube, where it can live forever to be mocked by the dregs of the Internet (a.k.a. YouTube commenters). This year's installment opens with the Dublin office, which made some poor Russian kid sing "Galway Girl," which seems awfully on-the-nose, right?
Then there's the American kids in, we believe, the Mountain View office. Their lyrics include, "I'm gonna write some code, only got 12 weeks to make a difference," sung to the tune of "Thrift Shop." There's also beatboxing and breakdancing. It all culminates with the lot of them dancing to Icona Pop's "I Love It." At least they didn't have to reenact "Blurred Lines," probably because it would give them an ironclad sexual harassment case.
Could it be that we're dealing with some Patty Hearst scenario here? Interns: Blink twice if you need help.
http://www.youtube.com/watch?v=K1nER2Lp8xc