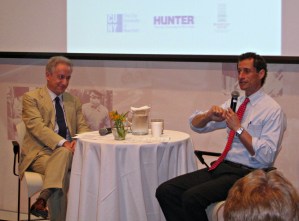 Former Congressman Anthony Weiner accused Mayor Michael Bloomberg of using school closures to skirt union rules and fudging test scores ahead of his 2005 re-election bid during a conversation on education policy this morning that represented a rare reprieve from relentless questions about his latest sexing scandal.
Still trying to shift the conversation away from revelations that have engulfed his fledgling mayoral campaign in recent weeks, Mr. Weiner spent nearly an hour discussing everything from test scores to classroom diversity during a CUNY Institute of Education Policy Breakfast at Hunter College.
Asked about the Bloomberg administration's controversial school closure policy, Mr. Weiner made the case that schools are being closed, not to improve them, but because it allows the city to skirt union rules that would otherwise bar the changes.
"It is simply a way to use their tools to be able to do what they want to ultimately do, which is to move teachers. And I think that–frankly–it's not a particularly productive way to solve what is basically a labor–a contract–negotiation," he said, describing the process as deeply disruptive to students.
"We're basically saying to kids, 'Don't worry this school is a failure,'" he charged.
The allegations continued as Mr. Weiner accused Mr. Bloomberg of messing with test scores ahead of his 2005 re-election bid in order to make it seem as though more progress was being made.
"The mayor himself, I think, fudged the scores wildly leading up to his re-election in 2005," said Mr. Weiner, who at the time was also running in the race. "A lot of those early numbers turned out to be discredited."
In a scrum with mostly education reporters after the forum, Mr. Weiner doubled down on the accusation, pointing to news reports from the time questioning the scores.
"There was a spate of press conferences about how amazing the schools were doing that were later on discredited when those numbers came crashing back to earth," he said. "These numbers are getting fudged in hundreds of ways," he said.
Still, Mr. Weiner said he had no intention of jumping on the bandwagon of criticism that is sure to hit the administration tomorrow when the first round of test scores under a new curriculum are announced. The mayor and schools chancellor have been warning for months parents to brace for significant declines.
"You're going to have people howling from the rooftop," Mr. Weiner predicted. But, he said, I'm "not going to be joining my colleagues in beating up the mayor or beating up the school system."
"I think bludgeoning the Bloomberg administration over what was going to be probably a readjustment of scores is not entirely fair," he said, arguing that the curriculum changes would be beneficial in the long run.
At the end of the scrum, Politicker asked Mr. Weiner whether he preferred this morning's questions, which included no mention whatsoever of the scandal.
"You get to ask any questions that you want. That's your job," he said. "My job is to answer them as best that I can."
The mayor's office did not immediately respond to a request for comment in response to Mr. Weiner's charges.