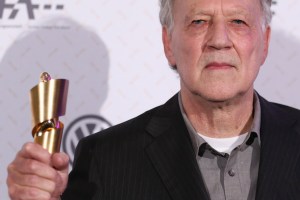 With so many Kickstarter projects popping up every day, it's getting almost impossible to make yours stand out. Luckily for one cash-strapped chef, Werner Herzog is a big fan of his salt. Seriously.
Angelo Garro, an Italian-American chef based in San Francisco, is seeking $30,000 to produce and distribute his organic salt, "Omnivore," nationally. Getting Mr. Herzog to narrate the Kickstarter video was a smart move. There's something very calming about his voice – just ask Joaquin Phoenix.
In the promo, the iconic German filmmaker tells us that his friend's "philosophy of cooking brings us back to the timeless essentials of organic food … He is constantly gathering all the fresh, wild things nature has to offer.
"He knows we eat too much and, in particular, too much sugar, too much salt and too much fat." Mr. Herzog informs the viewer that they will use less of Mr. Garro's salt as it contains spices. "Many great chefs use it."
The recipe was handed down through generations of Mr. Garro's Sicilian family. Apparently it tastes so good, Mr. Herzog is among those known to steal it. He could have done with some back in 1980.
The Munich-born director, producer and screenwriter was a central figure of New German Cinema in the 1970s and '80s. In recent years, he has focused on making documentaries and, apparently, sampling salt.
Mr. Garro, a trained blacksmith, runs a center for cooking, art and metalwork called the Renaissance Forge.
His target must be reached by September 7th and more than $14,000 has been pledged so far. The money would enable him to produce the salt with a certified organic company and begin nationwide distribution.
Let's face it: when Mr. Herzog's name is attached to your project, you're probably on to a winner. If the $30,000 target isn't met, The Observer will eat its own shoe.
[protected-iframe id="bf9c803e94c73f899d141a4c4ffc4e4c-35584880-50017992″ info="http://www.kickstarter.com/projects/1285695829/omnivore-salta-family-recipe-that-makes-food-taste/widget/video.html" width="640″ height="480″ frameborder="0″]
UPDATE: On Monday, Aug. 5, the goal of $30,000 was reached. The Observer is relieved no shoe eating will be necessary.