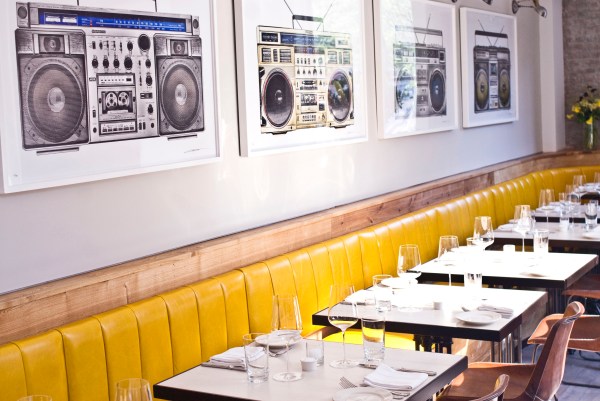 By all accounts, Charlie Bird, the new hotsy-totsy restaurant in the West Village by chef Ryan Hardy and the wine consultant Robert Bohr, should be great. Mr. Hardy has cooked at some wonderful kitchens in the past, like San Francisco's Rubicon, and The Little Nell in Aspen, where he served as executive chef for nearly six years and garnered four James Beard Award nominations.
Mr. Bohr, meanwhile, is fantastically talented and, having worked at Cru, Babbo and Daniel, something of a wine jedi. Another partner, Jordan Salcito, is Mr. Bohr's wife and the head of beverage operations of Momofuku. So the crew is legit. 
The space, formerly a warren of studio apartments and one-bedrooms, is well laid-out and welcoming. It's clean, warm and inviting, like an after-school bible study party with snacks.
There are, indeed, some things worthwhile about Charlie Bird. Those things are, in alphabetical order: alcohol, all of it; design, most of it; food, some of it; and service, soup-to-nuts stellar. But Charlie Bird never really takes flight.
At issue are three factors: Charlie Bird's use of hip-hop, which I found heavy-handed and troubling; its vision of New York City, which I found dangerous; and its food, which I found wanting.
On a busy night—and they are all busy at Charlie Bird right now—you can hear the place before you see it. Through open windows onto Sixth Avenue spills a bracing torrent of hip-hop as loud as a Bed-Stuy block party in the dog days of summer, circa 1999.
Mr. Bohr, who describes himself on Twitter as a "sommelier, food and wine lover, big hip hop fan," perches on the railing of a ramp with a glass of Chartogne-Taillet champagne ($28), the West Village version of St. Ides, in his hand, mouthing the words.
Behind him is the sign for Charlie Bird, a signature scrawled in yellow neon. Who is Charlie Bird? Certainly it is an homage to jazz saxophonist Charlie "Bird" Parker, although in an open letter posted on the restaurant's website, Mr. Hardy and Mr. Bohr explain that "Charlie Bird means New York."
If Charlie Bird means New York, New York is small, minimal and elegant, with a marble bar along the east side and open windows on the west. New York has a beautiful yellow-cab yellow leather booth on the north side. It has two tiers, the higher one reached by a small flight of stairs and containing a banquette, and another 10 or so tables. New York is flooded with a light that flows uninterrupted through the $64 Zalto wine glasses placed on the tables, so clean they're hardly there. New York is hard to get into.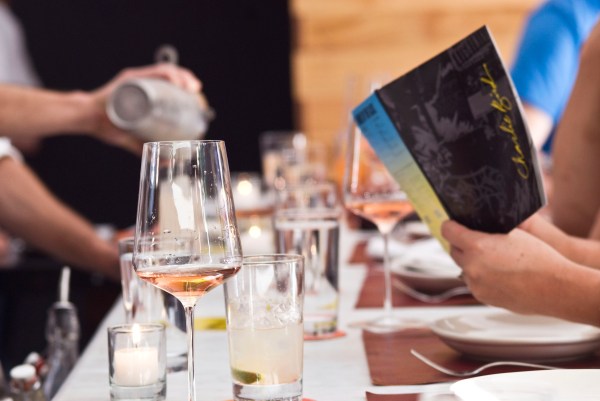 If Charlie Bird means New York, New York loves old school and conscious hip-hop, playing at aggressive levels, sound-wise and visually. Above the banquette hang four large, white-framed prints of boomboxes by the photographer Lyle Owerko. On the back of the menus, beautiful technicolored paper pamphlets designed by AvroKo that fold out into 12-inch by 16.5-inch posters, are photographs by Ricky Powell. On one, GZA, RZA and Raekwon of the Wu-Tang Clan peer out backstage from a haze of smoke. On the verso of the other, members of Run-DMC wear Adidas track suits and gold chains and pose in front of the Eiffel tower in 1987.
If Charlie Bird means New York, New Yorkers eat richly and sometimes well. They enjoy a tightly edited menu, with Italian roots and an emphasis on local ingredients. They like food that isn't challenging but that can be surprising, like a plate of silky thin-cut Long Island fluke crudo ($14), topped with even thinner slices of pickled almonds, flesh still on and fronting like olives, along with toasted almonds, just being almonds and drizzled with sweet Manni olive oil. Americans tend to like their raw fish with acid; New Yorkers, like Italians and Ryan Hardy, know it's better without.
The best thing on the menu is a tremendous spaghetti ($24) made from duck eggs bought from one of Mr. Hardy's carpenters who lives in New Jersey. Sea meets land in a complex seafood oratorio, carbonara-like in richness but totally new too, by the grace of a uni gonad and a generous deployment of butter, spring onion and lemon. The whole tangle is topped with shaved dried Petrossian caviar.
Sadly, often New Yorkers' love of salt betrays them. Promising dishes undone by an overenthusiastic shaking include the chitarra nero ($21), a homemade black pasta with crab, chile and zucchini, and the stracciatella, an extra-creamy mozzarella served here with fava and radish ($12).
New Yorkers also love their wine. Mr. Bohr's "day job" is serving as a consultant for high net-worth individuals looking to improve their wine collection. They might start by perusing his list for Charlie Bird. Bottles range from $40 to $200 and up. Even the cheapest, a 2011 Domaine Mardon ($40), a sauvignon blanc from Quincy in the Loire, is stellar: minerally, crisp and bracing. Even more interesting are the wines listed under the section "Shameless plug (for our sommelier friends who make wines)." Here you'll find the fruit of the side projects of Aldo Sohm of Le Bernadin ($75), who makes a tremendous grüner veitliner ($75); and a chardnonnay from Rajat Parr for San Francisco's RN74 ($75).
But if Charlie Bird means New York, New York is a room full of affluent white people listening to hip-hop, watching other affluent white people listen to hip-hop, congratulating themselves on being both tolerant and transgressive. If Charlie Bird means New York, New York is full of grumpy old farts with four-figure suits, no-booty biddies with ski-slope noses, men with selvedge denim and fedoras, and spaghetti-armed girls in spaghetti-strap dresses. New York does not have any people of color that I saw, except for some of the busboys.
If Charlie Bird means New York, New York is no place for diversity, which makes the aggressive touting of hip-hop, the fawning apostrophe to the city and explicit metonymy infuriating.
Charlie Bird is the restaurant version of Miley Cyrus twerking. Manhattan is a city whose income inequality rivals that of Sierra Leone, where street art exists mostly as coy social media campaigns for luxury brands, where the poor, the already marginalized blacks and the Latinos (whom Mos Def calls "my peoples") are being pushed off the island.
I'm not saying any restaurant with entrees over $25 can only play John Mayer. But at least have the decency to not play the anthems of the dispossessed as you dispossess them, to mythologize a myth of New York even as you do your part to destroy it. As Public Enemy sang, "Don't believe the hype."