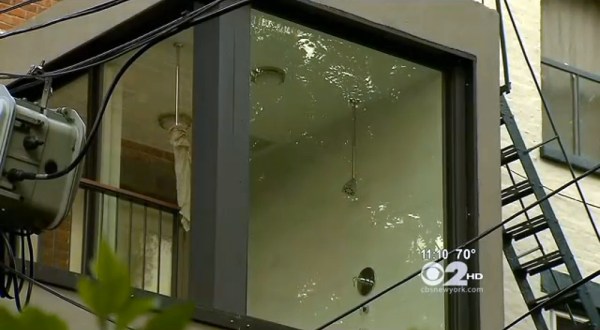 Things are getting steamy in Cobble Hill.
A couple in the tony Brooklyn neighborhood has made Peeping Toms of their preppy neighbors by including a glass-walled shower on the rear balcony of their newly renovated $2.1 million brownstone. Residents have complained that the shower is clearly visible from neighboring homes, and apparently don't relish the idea of seeing the couple's bods in the buff.
One neighbor, apparently disappointed that the couple wasn't "hotter and famous," alerted Gothamist to the existence of the backyard shower, adding, "It looks pretty nice, and I think it can fit a party of 8 at least."
"I don't think it's appropriate, especially in a neighborhood where a lot of kids go to school just down the block," one resident told CBS News.
The Daily Mail identified the offending couple as Julie Scelfo and James Cavoli, an interior design journalist and a lawyer, respectively. Which makes us wonder: did the couple not consider the opportunity for journalistic mockery (read as: click-bait) afforded by a see-through shower? What about the legal implications of forcing the entire neighborhood to involuntarily join in on your wet n' wild fun?
Other, less scandalous additions to the home, which is being renovated by interior design firm Incorporated, included adding a fourth story and a basement, a rear staircase, and a redesigned kitchen. Architectural projections for the renovations depict the shower covered with a privacy screen, or perhaps sufficiently steamed up so that the couple would not be visible. Neighbors apparently beg to differ – and cutting down three large trees in the backyard, making the balcony even more visible, didn't help.
The best part of this story may be that Ms. Scelfo wrote a New York Times article on the practice of window-peeping in New York City.
"The ability to observe the private lives of strangers from the windows of our homes — and the knowledge that they can often watch us, as well — has long been a staple of city life," Ms. Scelfo wrote in 2009. "This often inadvertent voyeurism gives rise to relationships that can be deeply meaningful, although the people involved may never actually meet," she suggested, citing a number of New Yorkers who felt closer to their neighbors by observing them through windows.
Ms. Scelfo and Mr. Cavoli refused requests for comment by the Daily Mail and CBS News. People in glass houses, or something.
Update: In an e-mail to Daily Intelligencer, Mr. Cavoli said, "We are flattered and mildly fascinated that our neighbors have taken an interest in a bathroom that has never been used and is still under construction, and can only hope they will be as friendly when installation of the glass privacy coverings are complete."
Dang. You can put down your binoculars now.