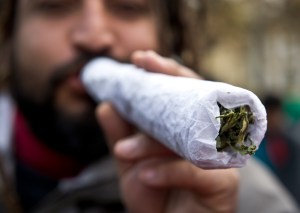 As the clock ticks down to the September 10 primary, it's become high time the mayoral candidates address the topic of marijuana.
Yesterday, City Comptroller John Liu rolled out a proposal to legalize and regulate cannabis in the five boroughs. Mr. Liu insists, however, he has never smoked the drug and never intends to do so even if it's legalized.
But that's not the case for all of the Gracie Mansion hopefuls. Politicker asked the various mayoral campaigns what their respective candidates' stances were on marijuana legalization and whether they'd ever taken a toke.
"She has. And she supports medical marijuana," said Mike Morey, a spokesman for City Council Speaker Christine Quinn, in an email. He pointed to a City Council resolution calling on the State Legislature to legalize medicinal marijuana use.
Public Advocate Bill de Blasio, the current leader in the polls, has also smoked weed, but not for many years, according to his spokesman, Dan Levitan.
"He tried it in college, has not used it since," Mr. Levitan told Politicker. Mr. de Blasio has also called on the NYPD to limit arrests for marijuana violations–but has not called for outright legalization.
Former Comptroller Bill Thompson has also used the drug, and is also on the side of  more lenient enforcement.
"Bill Thompson does not support legalizing marijuana," spokeswoman Dani Lever said, "but he does support decriminalizing small amounts and legalizing medical marijuana."
And it's not just the Democratic contenders who have enjoyed a toke or two.
Joe Lhota, the former chair of the MTA, has indeed smoked pot, according to his spokeswoman Jessica Proud. Mr. Lhota was the first major candidate to come out in support of legalization back when he was the transit chief.
And David Catalfamo, a spokesman for Doe Fund founder George McDonald, confirmed his candidate had smoked pot in the past and supports the decriminalization of small amounts of marijuana.
The Independence Party's choice, former Bronx Borough President Adolfo Carrión, Jr., is in the same boat. "Yes," Carrión spokesman Donald Kaplan said in response to the question. "And decriminalize, not legalize."
Nevertheless, there were a couple of candidates who were left out of the smoke sessions in their wilder days.
"No, he never smoked," spokesman Rob Ryan, who represents Republican John Catsimidatis, told Politicker. "He believes in medical marijuana by doctors prescription under strict controls. He does not believe in legalization because of the concerns raised in recent studies relating to effects it has on kids whose bodies and brains are still developing."
Democrat Sal Albanese has also "never smoked marijuana, but he's advocated legalization since early in the campaign," said his spokesman, Todd Brogan. "Unlike Liu, Sal believes that legalization is more than just a revenue tool," he added. "He'd legalize, tax, and regulate marijuana and devote the saved and newly-generated resources to funding schools and hiring more police officers."
Barbara Morgan, spokeswoman for former Congressman Anthony Weiner, did not respond to a request for comment.