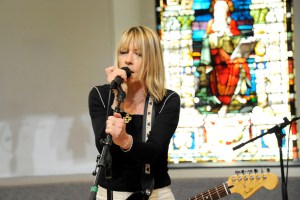 White Columns announced today that they will put on a show by the Sonic Youth member and artist Kim Gordon.
Full press release follows:
White Columns is pleased to announce 'Design Office with Kim Gordon – Since 1980', the first survey exhibition of Kim Gordon's ongoing art practice.

Kim Gordon studied at the Otis Art Institute in Los Angeles in the late 1970s and has continued to work as an artist since then. Her first solo exhibition, presented under the name 'Design Office' took place at White Columns in 1981. The current exhibition will include photographs, writings, videos, paintings and sculptures produced by Gordon between 1980 and 2013.

Kim Gordon's art has been shown internationally including recent solo exhibitions at KS Art, New York; and Reena Spaulings Fine Art, New York, among others. Her collected writings – which originally appeared in Artforum, ZG and Real Life magazines – are forthcoming from the Sternberg Press. A widely recorded musician Kim Gordon is a founding member of Sonic Youth and performs as Body/Head (with Bill Nace.)

A new limited-edition vinyl solo recording by Kim Gordon will accompany the exhibition, and a publication anthologizing Gordon's activities as an artist will follow in the fall.