TripAdvisor has somehow ranked New York City fourth in the nation for best pizza. 

The website, notorious for misinformed ratings based on user reviews, announced the results yesterday as part of "The Best US Destinations For a Pizza Pie."
The Big Apple was placed behind San Diego, Las Vegas and Boston, to the chagrin of pretty much anyone who's ever eaten pizza.
"Travelers to New York City craving authentic, thin crust pizza will be in their glory as they bite into a scrumptious slice at one of New York's famed pizzerias," began the site, before ironically adding that one user called the city "Home of the American pizza," (i.e. the sort of place that should probably be rated number one).
The list also fails to include the only other real contender for New York's rightful crown, Chicago.
"Top spots were determined based on the highest average rating by city for all restaurants that serve pizza," the site said, revealing how they compiled their ranking.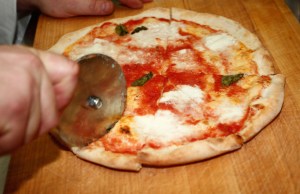 Since New York probably has more pizza places per square foot than anywhere else in the world, it's likely that some more budget establishments brought the average down.
The site goes on to list several of the city's best pizzerias, including Lombardi's, Di Fara's, and Patsy's, something noted by Jon Stewart in his infamous pizza rant back in 2011.
Let his words remind us that a few crappy outsiders (cough, cough Famous Famiglia) shouldn't bring the rest of the city down:
[youtube=http://www.youtube.com/watch?v=Gu0SpWmvwJM&w=420&h=315]
Here's the list in full:
1. San Diego, California
2. Las Vegas, Nevada
3. Boston, Massachusetts
4. New York City, New York
5. Seattle, Washington
6. Austin, Texas
7. San Francisco, California
8. Indianapolis, Indiana
9. Philadelphia, Pennsylvania
10. Phoenix, Arizona