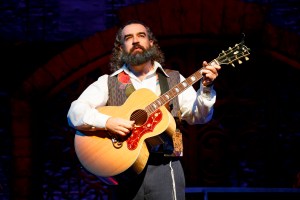 Rabbi Shlomo Carlebach, the folk-singing rock-star rabbi of the '50s, '60s and '70s, was born in Berlin in 1925, fled from Nazi Germany to Switzerland with his family in 1933 and arrived in New York in 1939, where his father, descended from a great line of European rabbis, took over a small Upper West Side synagogue. In the 1950s, Shlomo fell in with the Lubavitch Hasidic movement, with its ecstatic and quasi-missionary form of Judaism, started playing guitar and writing his own music and connected with the Greenwich Village folkies, like Bob Dylan and Pete Seeger, who helped him build a singing career. Upon his father's death in 1967, Shlomo, along with his twin brother and despite his schedule of near-constant performing and touring, took over what's now usually known as the Carlebach Shul, and he remained the spiritual leader there until his death, in 1994. He left behind that congregation (still going strong two decades later), a communal settlement in central Israel (likewise), more than 25 albums, a wife and two daughters.
The above is all per Shlomo's New York Times obituary.
Shlomo had a happy childhood in Vienna, where his father was the chief rabbi and where a personal emissary from Adolf Eichmann arrived at the family's door to inform them—rather considerately, for the architect of the Holocaust—that they were being deported. ("What does he want?" Shlomo's mother asked upon hearing that Eichmann had a message for her husband. "My recipe for kugel?") Having immigrated to New York, Shlomo infuriated his father first by playing ball and second by becoming a Lubavitcher. After a spectacularly unsuccessful outreach attempt at a Columbia University Rosh Hashanah party, at which a member of the band the Meshugah Cubes helpfully informed Shlomo and his brother that "if you want to talk to the rock 'n' roll generation, you gotta jazz it up," Shlomo wandered into a smoky bar at which he met Nina Simone singing "I Put a Spell on You." Inspired by Simone, and by black church music, Carlebach became a peace-and-love troubadour, which irritated his father further. Father and son remained estranged until the elder Carlebach's death. Shlomo, determined to be a father figure to a generation of seekers, rejected the one acolyte who really loved him and never had a family of his own, and the climax of his life was a circle-closing concert in the main square of Vienna, orchestrated by his pal Simone.
This is Shlomo's life story as told in the cliché-ridden, fact-averse, cloying and chaotic musical Soul Doctor, which opened last week at the Circle in the Square. It is a bioplay that tells you almost no true details about its subject's life, and leaves you knowing essentially nothing more about its protagonist than you did when you arrived. As Shlomo himself says repeatedly through the interminable, incoherent evening: Gevalt!
Shlomo, who did not hail from Vienna, was not virtually disowned by his father, did not shun having a family of his own and did not have Nina Simone as his muse, was an undeniably charismatic man with an undeniably compelling life story. There could be an interesting and entertaining musical about his life, and this misbegotten one indeed contains several elements that unquestionably enliven it. The music, near throughout, is Shlomo's, and it's moving, both haunting and buoyant. As Shlomo, Eric Anderson, a California gentile, does a fine job of channeling the Eastern European Jew, conveying both the rabbi's Aquarian mysticism and his Yiddishe heart. Benoit-Swan Pouffer's choreography mixes some Deadhead twirling (for Shlomo's "holy beggar" followers) and Fiddler-ian shuckling (for the yeshiva bochers of Shlomo's youth) with balletic touches for lovely dance sequences that, occasionally, help director Daniel S. Wise achieve pretty stage pictures. And Amber Iman is simply terrific as Simone, sultry and smart, with a gorgeous voice—and, sadly, little to do with it.
Mr. Wise, the director, is also the show's book writer, and the underuse of the Simone character—"Spell on You" is her only real song, and after that moment she simply reappears occasionally to serve as a wise and inspirational force—is but one of the flaws in the script, which not only takes a dramatic amount of license with Shlomo's life but also misses most of what made him so popular. The rabbi's charisma is more asserted than demonstrated, and his breakthroughs—the insights that led him to combine folk music with liturgy, the hard work that went into his songwriting—are entirely ignored. In Mr. Wise's conception, Shlomo is a passive participant in his own life.
Shlomo's daughter Neshama, who carries on her father's musical legacy and tours playing his music, has an "additional material" credit on this play but was by all accounts deeply involved in its creation, initially envisioning it as a one-woman show she would perform. And, indeed, there's something here reminiscent of another greatest-hits musical, Motown: both purported histories, both opening and closing with a life-encapsulating concert, both constructed by authors (Ms. Carlebach, Berry Gordy) with a very vested interest in that story. When you've got the Motown catalogue at your disposal, that show can be a hit. But Soul Doctor, alas, lacks that divine intervention.