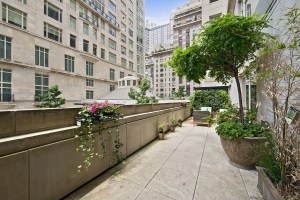 There aren't many buildings where you can try to flip a two-bedroom apartment for well over double what you bought it for five years ago (and fewer still where you can do so without raising some eyebrows). But 15 Central Park West is a magical place and Café Lalo owner Haim Lalo may well be able to do just that after listing his apartment for $10.9 million.
And at a mere 170% desired profit margin over the original $4 million that Mr. Lalo—whose eponymous Upper West Side café was featured in You've Got Mail—paid the developers for the apartment, it's one of the more reasonable asking prices in the building.
Lower floors on park-side buildings often sell at a discount due to the less magisterial views, especially those oriented away from the emerald expanse, but Mr. Lalo's second-floor courtyard-facing unit makes up for it with rare outdoor space in the coveted limestone building. "It has a beautiful, private terrace," said Noel Berk at Mercedes Berk, who shares the listing with Liz Mercedes Berk. "The walls of the terrace"—which boasts 358 square feet, according to the floorplan—"come up significantly, so when you're sitting there it's very private."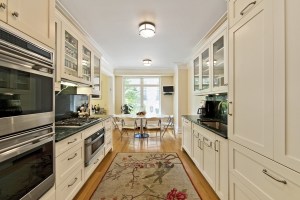 Asking a bit under $5,400 a foot, Mr. Lalo's second floor unit isn't much cheaper on a per-square-foot basis than another, much larger unit on the 15th floor that Ms. Berk—who bought a sponsor unit from the Zeckendorfs and has been selling in the building since before it even opened—is also listing.
"There's a lot of interest," she told The Observer, "because at 15 CPW, most of the three-bedrooms are facing the park. This has sort of a side view of the park and faces Broadway, so you can get into the building with a three-bedroom with a lower rate."
She said the owners of the 15th-floor unit haven't yet gotten a bid above their $14.95 million ask, but we suspect it'll only be a matter of time until they do—Ms. Berk just recently sold a seventh-floor unit for $5.2 million, more than $200,000 over the seller's asking price.
Unfortunately for the seller on the 15th floor, they were not one of the  sponsor unit buyers, so they won't be able to double (or triple) their money like those who bought directly from the developers. They picked up the pad in 2008 as a resale for $9.15 million, so they'll likely have to content themselves with a lowly $6 million or so in profit.
So does seeing all of these massive price increases ever tempt Ms. Berk to sell her own 14th-floor unit in the building?
"I'm too happy living there," she said. "You go to Kathmandu, and it says 7,500 miles to New York or whatever—the measurement is from Columbus Circle. Any place that's measured from New York, it's measured from there."