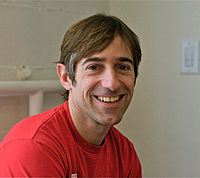 After shuttering its NYC office, effectively closing down New York game studio OMGPOP forever, gaming behemoth Zynga announced today that it will be permanently shuttering OMGpop.com and four of the company's games by September 30th. According to Polygon, Cupcake Corner, Gem Rush, Pool World Champ and Snoops will all be shut down by August 29th, with the website going dark the month after.
The move won't affect OMGPOP's arguably most successful properties, Draw Something and Draw Something 2. It's unclear whether What's the Phrase, a Wheel of Fortune-type game that hit number one in the Apple app store in March, will be affected.
The news comes almost exactly two months after Zynga announced it was shutting down its New York office and laying off 520 people, roughly 18 percent of its staff. The New York office was comprised primarily of those who stayed on at Zynga after the company acquired the small gaming studio OMGPOP.
When Zynga purchased OMGPOP, the startup's CEO Dan Porter became Zynga's VP of General Management of Zynga New York. He left that position in April and was replaced by VP of mobile Sean Kelly.
developing
Got more info? Please dish. Holler at your girls: tips[at]betabeat.com.