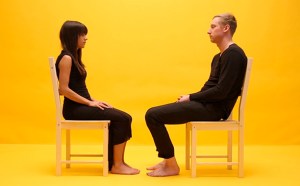 Jessica Walsh and Timothy Goodman are the luckiest Rachel and Ross combo since…well, Rachel and Ross. Not only have the two micro-celebrities managed to turn their friends-with-benefits situation (that is no longer going on) into a highly successful website, but the end of their experiment has landed them a movie deal. That's right, Warner Bros. has bought the rights to 40 Days, making it the inevitable follow-up to 500 Days of Summer. Is it possible that Zooey Deschanaal will star in this too, or will the role go to another actress with bangs, like Emily Blunt?

According to EntertainmentWeekly.com, "The Vow's Michael Sucsy will direct the film, which will be written by Lorene Scafaria (Nick and Nora's Infinite Playlist)." But there is no mention of who might possibly star in the feature. For Mr. Goodman…Stephen Merchant? Chris Gethard? Michael Cera? Ryan Gosling? Channing Tatum? Possibly-to-very-not-likely!
Who will play their friends? Their parents?
Put your ideas for casting in the comments!