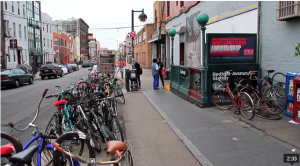 Do you ever get tired of your roommate talking about the same thing over and over again?
Well, one Williamsburg resident certainly did, and has taken the drastic measure of renting their apartment out on Craiglist, because they're no longer going to listen to their flatmate's "God damn opinions on Syria."
The post, created yesterday afternoon, was picked up by FreeWilliamsburg due to the renter's rather unusual reason for moving out:
I'd like to return to my apartment, but I know that as soon as I do, I'll be confronted by a roommate with opinions on the Syrian conflict and a determination to share them with me. The apartment has high ceilings and exposed brick along the far wall. At only $800/month it's a steal for the location.
The hilarious a (we hope it's real!) features all the information one needs in order to sublet an apartment, including transport connections, furnishing and pet policy, without ever letting the reader forget that it's all due their over-opinionated flatmate Mike:
Oh really, Mike? "Apathy towards the Middle East is bankrupting this nation's morality"? Stop using my shampoo.
The poster even revealed the lengths they've been going to in order to avoid the ill-informed rants about international policy that no part-time photographer or whatever in Billyburg is going to have any influence over:
I haven't been home in a week. I've been staying late at work, and then grounding myself at a bar until last call. Then I wander the streets until dawn breaks. Cold, afraid, and lonely; content only in knowing that I don't have to talk to my roommate about Syria.
The saddening and poetic message ends by asking around for other apartments for them to move into. As long as, you guessed it, there's no roommate with opinions on Syria.