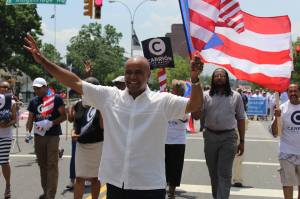 With the the Democratic and Republican tickets now settled, third-party contender Adolfo Carrión Jr. is ready to jump into the fray.
In a harshly-worded statement this afternoon, the former Bronx Borough President and Independence Party candidate slamming his rivals, Democrat Bill de Blasio and Republican Joe Lhota as "divisive" and "out-of-touch" and claiming they represent the "politics of neglect."
"After months of corrupt establishment politics and union bosses trying to regain control of a broken system, a small minority of Democrat and Republican voters have given New Yorkers your typical out of touch politicians," Mr. Carrión said.
He criticized Mr. de Blasio for using "divisive class warfare rhetoric," and accused him of making  "promises we cannot afford [that] will edge New York further down the road of Detroit."
As for Mr. Lhota? Mr. Carrión called the former deputy mayor's view of the city "insular" and dismissed his work as the former chair of the MTA, which he described as "a bloated underperforming agency that nickels and dimes New Yorkers every day is not a resume for a leader that will take us into the future."
He continued on, accusing both of his rivals of living in the past. "It's time someone asked them, 'What city are you living in?' The way they talk, you would think New York is still the bankrupt cesspool of drugs, arson and filth of 1977.  Voters beware," Mr. Carrión said.
"People have had enough of the political psychobabble," he concluded. "They want to be leveled with … Let the real campaign for New York's future begin!"
Political observers widely consider Mr. Carrión a steep underdog in the race, as voters have historically focused on the Democratic and Republican contenders.
See his full statement below:
"With Bill Thompson's departure from the scene, New Yorkers finally know who their choices for mayor will be in November.  After months of corrupt establishment politics and union bosses trying to regain control of a broken system, a small minority of Democrat and Republican voters have given New Yorkers your typical out of touch politicians. These are the same folks who have been ignoring our people or taking them for granted for decades.  Both Bill de Blasio's divisive class warfare rhetoric and promises we cannot afford will edge New York further down the road of Detroit.  He believes the more he promises, the more he can fool the electorate into believing that big government policies will actually help improve lives.  On the other side, Joe Lhota's insular view of this city means he can't speak to many of the communities that are demanding better results.  Being the former head of a bloated underperforming agency that nickels and dimes New Yorkers every day is not a resume for a leader that will take us into the future. "As old-style politicians now line up for de Blasio, it's time someone asked them, "What city are you living in?"  The way they talk, you would think New York is still the bankrupt cesspool of drugs, arson and filth of 1977.  Voters beware. These politicians who failed before are so desperate to reclaim City Hall they are willing to deny the renaissance this city has experienced over the last 20 years. They are willing to gloss over the strides that have been made with non-partisan leadership that wasn't in the pocket of special interests.   "There are still significant problems, but to suggest this city is in crisis because it lacks a Democrat mayor, is just pure fantasy.  It's either that or typical political rhetoric that seeks to divide, shock and pander to an electorate politicians view as susceptible to wild promises and half-truths. "People have had enough of the political psychobabble. They want to be leveled with. They want to be respected.  They want politicians to speak to them like they are intelligent. I am the only candidate in this race who has the experience and the record to give all New Yorkers a path toward a stronger, more affordable city. Let the real campaign for New York's future begin!"