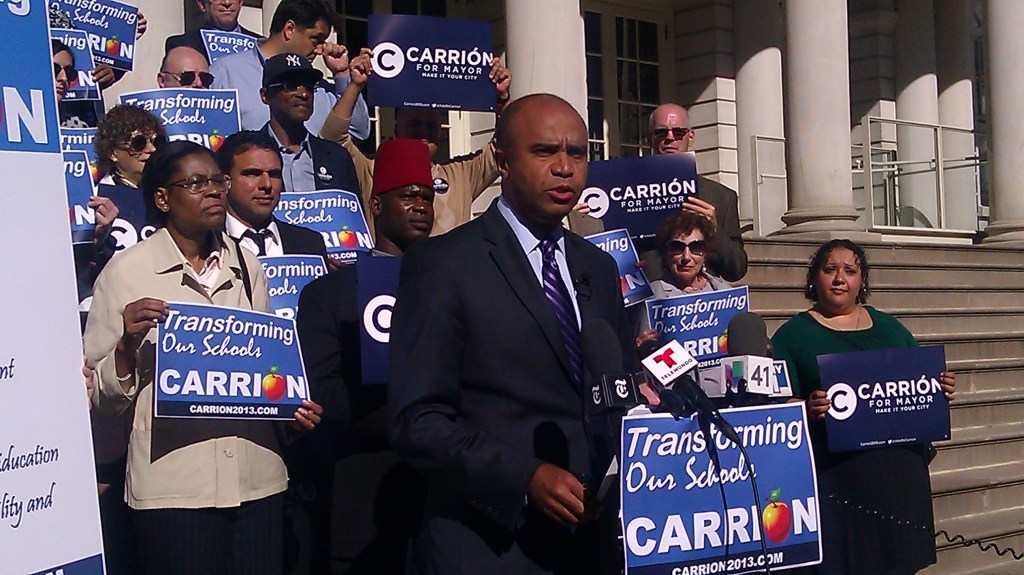 With the colorful Democratic and Republican primaries now out of the way, third-party mayoral candidate Adolfo Carrión Jr. is trying to push himself into the spotlight, unveiling his first major policy proposal and insisting he has a shot at Gracie Mansion, despite what the numbers and pundits say.
"Many members of the press and other folks have cast this as a two-way race between a Democrat and Republican and then there's everybody else. Well I am here to let you know that this year we have a three-way race with an independent candidate for mayor of New York City," the former Bronx borough president told reporters on the steps of City Hall.
In his bid to enter the conversation, Mr. Carrión unveiled his plan for the city's public schools. And while many of the proposals, like mentorship programs for principals, seemed relatively boilerplate, others were more novel, including inviting non-profits and businesses to host events at public schools for cash and drawing up school-parent contracts to ensure parents are doing things like helping their kids with homework.
"Just imagine for a moment an auditorium that is the performing arts platform for that neighborhood. Just imagine a schoolyard with a farmer's market. Just imagine a town hall meeting occurring in a cafeteria. Just imagine job training expos going on and businesses coming into the school and cultural organizations coming into the schools and offering all of these enhancements that the average upper middle class and wealthy kid has all across this country," said Mr. Carrión, who was joined by nearly thirty supporters and a handful of reporters.
Standing like a school teacher and gesturing to poster board, he ran through other ideas, including revamping the STEM (science, technology, engineering, and mathematics) program to include the arts and creating a new internship program for high school students.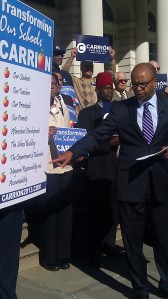 Mr. Carrión's quest to be mayor will be an uphill battle. The candidate is running on the Independence Party line as a self -described "social progressive" and "fiscal conservative" who is "untethered by political interest." But the first poll since the primaries showed Mr. Carrión trailing far behind Democrat Bill de Blasio and his GOP challenger Joe Lhota, with a paltry 3 percent of the vote.
Costas Panagopoulos, a professor at Fordham University, noted that Mr. Carrión is a "fairly well known politician city wide" which may help him gain some traction, but is at a severe disadvantage running without a major party line.
"Running outside of the established party structure is always an uphill battle. I anticipate it will be a tough climb for Mr. Carrión," he said, noting that–contrary to Mayor Michael Bloomberg, who ran as an independent in his last election–Mr. Carrión does not have $73 million to spend.
"It seems like he has a very weak hand," agreed Ken Sherrill, an emeritus political science professor at Hunter College. Mr. Sherrill told Politicker that while getting elected as a third-party candidate may not be impossible, the cards are stacked badly against him.
"Well the big challenge is that no one ever gets elected on a third party line," he said. "You really need an exciting candidate on the third party line for one, and you need an unacceptable or seriously flawed candidate on the major party line. This year I think neither of those conditions apply."
At the conclusion of his press conference Mr. Carrión dismissed the poll as premature. "It doesn't mean anything," he said. "It'll mean something if it's four weeks from now and they say Adolfo is in 3 or 4 percent … but I think we're making a big bet here."
Additional reporting by Jill Colvin. Correction:  An earlier version of this story said that Mr. Carrión was participating in the city's public matching system. He is not.