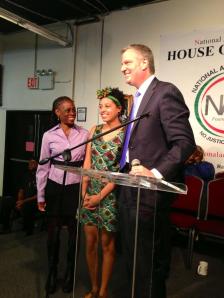 Rev. Al Sharpton welcomed "presumptive" Democratic mayoral nominee Bill de Blasio to his Saturday National Action Network rally this morning, where he declared that the identity politics of 20 years ago had given way to a new reality.
"What the election showed the other night is that a lot of the identity politics of 20 years ago, 30 years ago, has now become identity politics of policy," he told the audience. "Bill Thompson did very well in some white areas, Bill de Blasio did well in some black areas. You can no longer take yesterday's maps for today's politics."
Board of Elections staffers yesterday began verifying Tuesday night's election tallies and on Monday will begin counting tens of thousands of paper ballots to determine whether Mr. de Blasio maintains the crucial 40 percent needed to avoid a runoff against second-place finisher Bill Thompson, the only black candidate in the race. Mr. Thompson has refused to concede until more votes are counted, despite mounting pressure from the Democratic establishment, and even some of his former backers, to rally around Mr. de Blasio.
While Mr. Sharpton declined to endorse before Tuesday's election in what was seen as a blow to Mr. Thompson, he has made it clear in the days since that he expects Mr. de Blasio to emerge the victor, inviting him on his MSNBC show on Thursday night and welcoming him–and not Mr. Thompson–to speak this morning, where he was introduced as the "presumptive nominee."
"We all agree that we must protect and always stand for counting every vote," Mr. Sharpton told the audience. "But we cannot let people use our civil rights … Civil rights cannot be converted politically into civil wrongs."
Mr. Sharpton described the election as a turning point in which old assumptions about identity politics had been turned on their head.
"I think that as we mature, the values are different. Because no one wants to be taken for granted now," he explained. "If you want me to turn out for you, you've got to talk to me about my issues. You've got to turn me on before you expect me to turn out," he said. "And that is a good thing."
Still, he offered an olive branch, telling the audience that he had spoken to Mr. Thompson earlier in the morning and stressed that he was welcome at the event any time.
When it was his turn to speak, the towering Mr. de Blasio invited his wife, Chirlane, and his daughter, Chiara, on stage. In his brief remarks, Mr. de Blasio doubled down on his campaign themes, including the pressing need for change and a dramatic break from the policies of the Bloomberg administration.
"Now it is time for a series of meaningful, forceful changes in this city to address people's suffering," he told the crowd, calling for expanding paid sick leave, more affordable housing, higher taxes on the wealthy and reforms to stop-and-frisk.
"We can't accept the status quo," he told the crowd.
As for his famous son, Dante, who was conspicuously missing? ("He's out signing autographs," Mr. Sharpton joked.)
"Dante's afflicted by a particular new disease that just came through life called homework," explained his father. "Dante's feeling the fever right now."