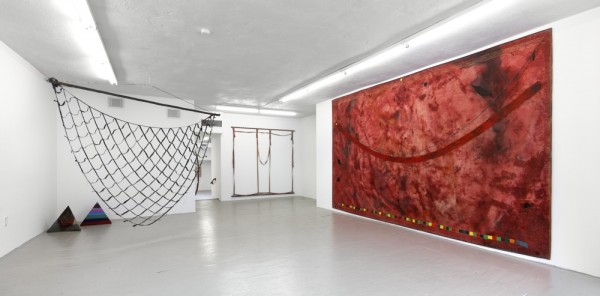 This superb exhibition, which inaugurates Paula Cooper's new 10th Avenue project space, closes Oct. 3, after three-week run that I wish was closer to three months. It includes more than a dozen works from between 1970 and 1988 by Alan Shields, the master of psychedelically inflected fabric pieces who split his time between New York and Shelter Island and died in 2005 at 61.
Using materials like canvas, cotton, dye, string and colored beads, which could yield hippie kitsch in less-able hands, Shields made paintings and sculptures beginning in the 1960s that charted one of the richer, more idiosyncratic pathways through and beyond Post-Minimalism. (You could group him with the much-maligned Pattern and Decoration movement, and people did, though his penchant for invention easily outmaneuvers any category.)
We're firmly in masterpiece territory with the two largest wall-hung works here. The 1972 J + K is a border of dyed fabric almost 18 by 9 feet that serves as a support for catenaries of various beads. S.P. (1970) is a touch smaller, about 14 feet by 9, but it's even more thrilling: An expanse of canvas that looks like a field of raspberries has exploded across it. Bits of thread and strings of beads will keep you looking at it for a while.
Shields could work small too, as in works with overlaid pieces of fabric cut and painted with patterns that suggest Sol LeWitt on LSD and a series of electric-looking prints, and in even more unconventional formats, like a sumptuous series of paintings from the mid-1980s on bits of fabric stitched around metal poles.
Promising young and midcareer artists like Sam Falls, Keltie Ferris, Travis Boyer and Sarah Braman, who wield charged colors and loose materials in thrilling ways, are Shields's artistic heirs; they take his practice and run wild with it. Here's a chance for us all to pay our respects, and to have a thoroughly enjoyable time doing it. (Through Oct. 5)