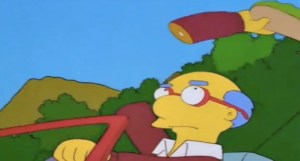 A pot grower in Albany was killed last weekend when he set off his own booby trap.
Daniel Ricketts, 50, was almost decapitated after setting off a piano wire trap on his property.
The Times Union reported that Mr. Rickets set off the trap, which he had placed to protect his marijuana plants, while driving an ATV in his backyard at around 2:30 p.m. last Saturday.
Wire traps, which are made using thin wire similar to those used in pianos, are strung tightly across an area and are almost invisible to the naked eye. They are designed to catch their victims off-guard.
Albany County Sheriff Craig D. Apple said barbed wire and a leg trap similar to those used to trap coyotes were also found on the property. Clearly Mr. Ricketts really wanted to protect his stash.
Mr. Apple said that alcohol may have played a role in the accident. He described planting the traps as "ridiculous."
"You're talking about going from a low level charge of possessing marijuana to possible manslaughter," he said.
There you have it, folks: Weed kills.