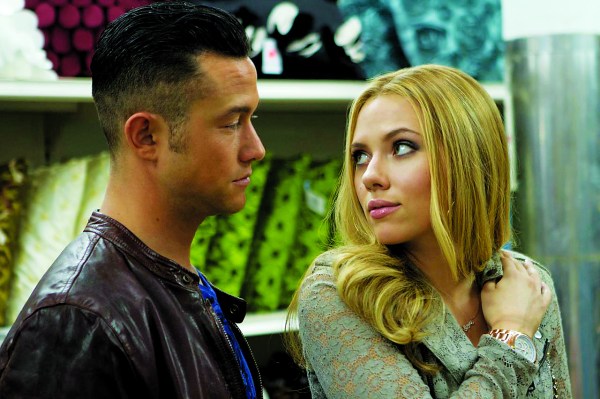 A benign little time-waster called Don Jon marks the writer-director debut of momentary dweeb flavor Joseph Gordon-Levitt, who also stars as a pornography-addicted student named Jon Martello, Jr., a bartender with a reputation for bedding a different girl every weekend, which does not explain why he doesn't seem to know any. Still, he's the envy of his college buddies, even though they all seem more like high school sophomores. They don't know he spends most of his time pleasuring himself while watching X-rated websites on his laptop. Even the film's title is a takeoff on the libidinous legend of Don Juan—get it? There's a lot of pressure to live up to the porn star image he has created for himself that young Mr. Gordon-Levitt cannot achieve. Most of the time he doesn't even try. For a vanity showcase most wannabe actor-writer-director hyphenates would kill for, he appears to be coasting on cruise control.
Jon's got problems, see. For starters, he's from a conservative Catholic family right out of All in the Family, and he lives in New Jersey. Sometimes, he goes to confession ("I did not have sex out of wedlock, Father, but I masturbated 22 times"), but mostly he just listens to the dinner table rants of his hysterical mother (Glenne Headly) and antediluvian father (a funny but crude performance by Tony Danza that makes Archie Bunker look and sound like the Duke of Marlborough). Some role model. When Jon finally meets a gum-chewing bridge-and-tunnel cupcake named Barbara (Scarlett Johansson, in one of her funniest roles), his father says, "You didn't tell me you were bringing home a piece of ass like that. Are those tits real?"
Are these people real? It's all supposed to be amusing, but it's just one-dimensional and obnoxious.  Mercifully, it's over in an hour and a half, but these are the kinds of people you would not want to spend 90 seconds with, much less 90 minutes. Barbara won't let Jon run his vacuum cleaner or watch Internet porn, and who can stand all that bubble gum? So he replaces her with Julianne Moore as an older woman named Esther who cries all the time. She just might be the earth mother to rehabilitate him. We'll never know, for Don Jon has no moral and no narrative trajectory. It just fades to black.
The writing is superficial and amateurish, never rising above rambling conversations about condoms ("To use or not to use?"). The point is synthetic. Maybe it will appeal to other Jersey boys who, like Jon, just go to the gym, yell at other drivers in outbursts of road rage and talk dirty. But for Mr. Gordon-Levitt, it's not much of a challenge to his superficial PR-fueled image as a stud on the road to stardom. I had to laugh at one recent magazine puff piece I read about him titled "Return of the Leading Man." Mr. Gordon-Levitt a leading man?  With his half-shaved head, doofus haircut and Alfred E. Newman grin, he's more like a puppet with an oversize head. He can act, and there's a possibility he can also direct, but there's no evidence in Don Jon that he can do both at the same time.
DON JON
WRITTEN BY: Joseph Gordon-Levitt
DIRECTED BY: Joseph Gordon-Levitt
STARRING: Joseph Gordon-Levitt, Scarlett Johansson and Julianne Moore
RUNNING TIME: 90 min.
RATING: 2/4