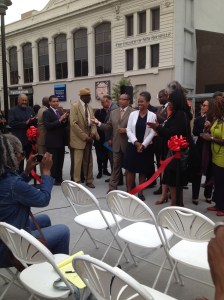 Primary Day: it is, for many New Yorkers, a time when the next mayoralty moves from the realm of the hypothetical to the realm of the real; the current administration recedes accordingly. But for a few hours at least, on a street corner in Bed-Stuy, the leaflet-brandishing volunteers seemed very far away, as Bloomberg administration commissioners, political appointees, local buinsess leaders and term-limited outgoing council member Al Vann gathered to celebrate a brand new pedestrian plaza. After all, what could be more Bloombergian than a new pedestrian plaza?
Part of a much larger $20 million neighborhood revitalization project that includes the renovation of Restoration Plaza across the street, as well as a mile of streetscape improvements, expanded sidewalks, new trees, plantings, lighting, benches and bike racks, Marcy Plaza sits at the corner of Marcy and Fulton streets, next door to a one-story Burger King. And though it made its official debut with a ribbon cutting ceremony Tuesday morning, it had, in fact, been getting use all summer, hosting a farmer's markets and a number of other community events.
It has, in other words, already proved popular, as pedestrian plazas are wont to do. Mayor Bloomberg didn't invent pedestrian plazas, of course, and Marcy Plaza has its roots way back in the 2002 Fulton FIRST planning initiative, five years before the mayor launched his pedestrian plaza project (and six before local officials applied to it). But if ever there were a pedestrian plaza champion, it would be Bloomberg and his Department of Transportation commissioner Janette Sadik-Khan.
Since the program launched as part of PlaNYC in 2007, 54 community plazas have been built across the five boroughs, providing roughly 22 acres of new pedestrian space, according to a spokesperson from the DOT. These have included the widely and warmly embraced as well as the highly controversial—turning over the street to pedestrians at Times and Herald Square generated shocked disbelief at the beginning, though they have proved highly popular, at least with tourists.
New Yorkers have shown themselves to be oddly comfortable with sitting in the street. Which is perhaps not surprising given that streets make up 80 percent of public space in the city, according to assistant DOT commissioner Andy Wiley-Schwartz, who attended the ribbon-cutting as a proxy for Ms. Kahn. Cultural Affairs commissioner Kate Levin also put in an appearance in honor of a large circular sidewalk mosaic done by Ellen Harvey that includes depictions of eighteen different Bed-Stuy landmarks.
The program is so popular, in fact, that the DOT receives far more applications for such plazas than it can build; while approximately 12 to 15 have been filed every year since the program launched, the DOT builds only 2 to 4 per year, according to Mr. Wiley-Schwartz. Communities must agree to partner with the DOT to build the plazas—in the case of Marcy Avenue, local groups that collaborated included the Bedford Stuyvesant Restoration Corp., the Bed-Stuy Gateway BID (which was created during the project), Brooklyn Community Board 3 as well as a host of other city organizations and agencies.
As for whether the next mayor will follow in Bloomberg's footsteps—the candidates have all been generally, although not totally supportive of pedestrian plazas, with Joe Lhota expressing significant reservations in a Times article—Mr. Wiley-Schwartz seemed convinced that he or she would.
"Seventy-three percent of New Yorkers support this program," Mr. Wiley-Schwartz said. "And all of the candidates support continuing this, so I'm certain it will. As long as the neighborhoods keep asking for it, I'm confident that the city will continue to meet the demand."